Spray Drying Systems
Product Announcement from GEA Process Engineering Inc.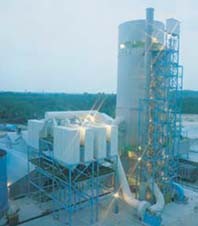 Niro specializes in spray drying systems of all sizes for food & chemical process industry applications. They offer a complete array of products and services, depending on your needs. They can provide individual spray dryer component or a complete process system, including all associated equipment.
For a given dryer capacity, the properties of the liquid to be dried and the characteristics of the powder to be produced are crucial and must be carefully considered when selecting the design of the spray dryer and the type of atomizer. Niro dryers are designed for your exact product needs, based upon process testing with your feed streams. Their expert engineers will make sure your end product complies with the precise quality standards you specify, in particle shape, particle size distribution, residual moisture content and bulk density. They can design with either rotary (wheel) or nozzle atomizers, depending on your process requirements. Operating conditions and dryer design are selected according to the drying characteristics of your product and your powder specifications.
They offer a complete range of sizes and capacities, from custom-designed large process lines to laboratory and pilot units. In general their spray dryers fall into three categories:
Large Systems
Small Systems & Pilot Plants
Fluidized Spray Dryer (FSD™)
Prilling
---