Sievers Certified (<10 ppb) TOC Vials
Product Announcement from GE Analytical Instruments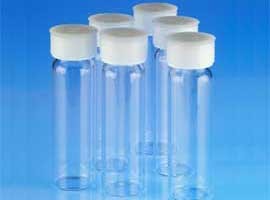 Sievers Certified (<10 ppb) TOC Vials are designed for use in critical pharmaceutical applications such as USP and EP Water testing as well as municipal water testing. Sievers Certified 40-mL TOC Vials are reliable, economical, and scrupulously clean. They are certified to be below 10 ppb, giving you confidence in the quality of your TOC measurements. In addition, they are:
Certified for use in critical applications including USP and EP water testing
Scrupulously cleaned in an ISO 9001 environment using a validated, automated process (see video)
Manufactured by the global leader in TOC measurement technology and TOC standards
Economical, with added savings on volume orders
Reliable, with guaranteed performance
Sievers Certified TOC Vials are compatible with most TOC analyzer brands, including Sievers, Shimadzu, OI Analytical, Teledyne-Tekmar and Skalar.
GE TOC Sample Vials
GE Analytical Instruments is the world leader in low-level TOC standards and TOC measurement technology with its Sievers TOC analyzers. Utilizing this extensive expertise, GE Analytical Instruments is now offering pre-cleaned 40- and 60-mL TOC sample vials suitable for environmental, municipal, and process applications. These vials are cleaned of organic residues with our advanced automated process in an ISO 9001 environment to ensure the quality of your TOC measurements. GE guarantees the performance of these vials.
---