GE HV/MV Equipment
Product Announcement from GE Digital Energy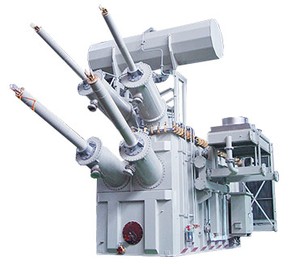 As a global leader in grid infrastructure products and services, GE supports a broad set of utility applications ranging from transmission and substation automation to distribution networks and smart metering. Through an alliance with XD Electric®, GE has extended its portfolio to include high and ultra-high voltage power equipment.
Transformers: GE offers a wide range of transformer solutions for the utility, industrial, commercial, residential, and energy markets. These products & solutions feature flexible, reliable, and robust designs to support a wide range of applications.
Gas Insulated Switchgear: XD|GE provides high performance, compact and flexible Gas Insulated Switchgear (GIS) solutions for high to ultra-high voltage power transmission and distribution networks. Supporting a voltage range of 72.5 up to 800kV, XD|GE has delivered more than 20,000 bays around the world.
Capacitors: For a century, utilities have relied on GE to deliver electrical products and services to meet their quality, durability and performance needs. Today, our grid and asset management suite, advanced distribution infrastructure solution and substation management tools enable utilities to deliver superior customer care, system reliability, and operating efficiency. Our capacitor product line is an integral part of our portfolio. GE provides power capacitors that meet ANSI® / IEEE® and IEC® standards. Our low voltage capacitors are UL Listed. Ratings range from 1 kvar to 500 MVAR, from 240 volts to 500 KV.
Circuit Breakers: XD|GE offers a full range of Live and Dead Tank HV Circuit Breakers. Based on proven technology, advanced manufacturing and testing capabilities, our circuit breaker solutions offer the breadth to meet the needs of an extensive range of applications. Compact in design and featuring a unique arc extinguishing technology, as well as self-blast interrupting capability XD|GE Circuit Breakers offers a significantly reduced footprint with greater reliability.
CTs & CVTs: XD|GE is an industry leader in the design, manufacturing and commissioning of high voltage Current & Voltage Transformers. With over 25 years of in service experience, XD|GE offers a broad portfolio of CTs and CVTs that that includes both standard and high accuracy modes for revenue metering and system protection applications.
---