GE Multilin Distribution Automation Controllers
Product Announcement from GE Digital Energy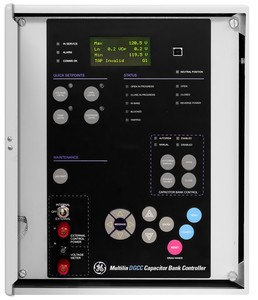 GE Digital Energy offers a new platform of Multilin Distribution Automation (DA) Controllers, including a Voltage Regulator Controller, Capacitor Bank Controller and Field RTU, key building blocks of GE's advanced distribution automation solutions.
When deployed as part of a voltage and VAR control solution that includes voltage regulators and capacitor banks, GE's DA Controllers provide utilities with the advanced technologies to optimize grid efficiency through peak load shaving and reduced power losses. They also provide asset visualization through advanced power quality measurements.
GE's DA Controllers provide fast and accurate detection of power system outages reducing typical outage time from hours to minutes. This capability helps drive increased power system reliability, customer satisfaction and provides significant improvement to a utility's performance indices.
The Multilin DGCV Voltage Regulator Controller is designed to monitor and control voltage regulators, maintaining voltage levels within a utility's specified tolerances under varying load conditions. As part of a platform of distribution automation controllers, the Multilin Voltage Regulator Controller is an integral component of a Volt/VAR system, enabling utilities to optimize grid and operational efficiency.
The Multilin DGCC Capacitor Bank Controller is designed to monitor and provide automated control of capacitor banks in a distribution network. The Multilin Capacitor Bank Controller, part of a platform of Distribution Automation Controllers, improves operational effectiveness through a reduction of system losses, when integrated into a Volt/VAR System.
Part of a platform of Distribution Automation Controllers, the Multilin DGCM Field RTU provides advanced monitoring of low and medium voltage distribution feeders and is suitable for both pole top and pad mounted switch devices or transformer feeders. As an integrated component to a FDIR system, the Multilin Field RTU provides the asset visibility utilities need to maximize system reliability.
---