PowerOn™ Fusion Advanced DMS
Product Announcement from GE Digital Energy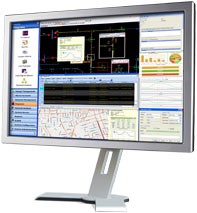 The PowerOn Fusion Advanced DMS (ADMS) enables distribution utilities to deliver higher reliability, customer service and reduced operating costs while maintaining workforce safety and addressing major evolving technology challenges.
The growth of embedded generation, the volume of electric vehicles and management of an active distribution network present fundamental challenges to utility control systems. At the same time new measurement and control technology is being introduced. All of this must be integrated with the wider organization IT systems, ensuring operational security, while continuing to manage changing business processes.
PowerOn Fusion digitizes where paper once ruled, and provides the proven, robust, scalable platform for Smart Grid deployments and business transformation.
Key Benefits:
Increase operational efficiency: Do more with less, automate workflows, reduce operator time and maximize team utilization.
Reduce outage restoration times: Fault Detection, Isolation and Service Restoration (FDIR), Smart Switching Advisor, integrated OMS and mobile field dispatch allow the restoration process to connect, end-to-end, for faster response and better operational decisions.
Improve situational awareness: Achieve full network visibility, and avoid overloading assets, with real-time distribution power flow.
End-to-end Distribution Management: Take control of high and low voltage networks, with connected data models and scalable technology to manage active networks at all levels.
Shift peaks and reduce losses: With multi-objective Integrated Volt-Var Control (IVVC).
Lower cost of data maintenance: Out-the-box GIS integration using CIM for distribution Industry Standard for incremental model maintenance.
Integrated Smart Grid Solutions: Service-based interoperability to the enterprise and other Smart Grid solutions, providing IT integration for a connected utility.
---