Bistable Rotary Solenoid in Shutter & Demo Video
Featured Product from GEEPLUS Inc.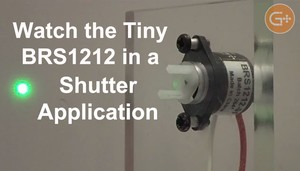 Optics and Imaging
Some of our tiny solenoids can be found in optic and imaging devices–for instance, optical beam shutters that effectively block beams of light as needed. Using the same principle, Geeplus solenoids are also found in applications controlling laser movement.
Our mini bistable rotary solenoids are ideal in these applications due to their low power consumption and heat dissipation, as well as the ability to hold in position with no power applied. Our engineers have designed some of these solenoids to be decidedly cost effective in volume applications.
• Laser/optical equipment (used to redirect laser as opposed to shutting down the laser source).
• Shutter applications
• Focusing mechanisms
• Steering mechanisms
• Thermal imaging (including security, medical (fever scan), industrial (checking for hotspots))