Brushless Motor -Prefect Stepper Motor Replacement
Featured Product from GEEPLUS Inc.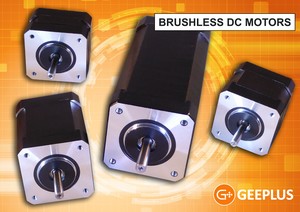 Brushless DC Motors
With high starting torque and faster acceleration / deceleration, the motor produces less heat and less noise by eliminating ionizing spikes from brushes. This makes the brushless motor suitable for use in a number of sensitive applications, including medical equipment.
Additional application examples include hospital beds (less noise than a stepper motor), door release bars, centrifuge drives, linear and servo motors, actuators for industrial robots, feeder drives and a whole lot more.
Our brushless motors are currently available in eight standard sizes, but other versions can be manufactured to specification.
Customization Options for BLDC Motors
• Custom Flange Once tooling is complete for modifications of this kind, the impact on unit cost is small.
• Shaft Modification Flats, keyways, splines, leadscrew form, pinion and rear shaft extension are common modifications.
• Encoders Can be added to provide position feedback, and can provide relative or absolute position information.
• Lead-wire Modification Longer or shorter lead-wires, cable (with outer sheath), or addition of connectors are common modifications. Different lead-wire material is possible to conform to standards in different countries/applications.
• Insulation System Higher temperature class (may also require magnet and bearing changes), or higher isolation class are usually straightforward. Impregnation or over-moulding of motor windings can improve heat transfer from coil windings to stator, enhance isolation, and improve resistance to vibration, and to hostile environments/corrosion.
• Bearing Changes Bearings can be changed to withstand higher radial or axial loading, to accommodate a custom shaft, to use corrosion resistant material, to withstand higher or lower temperatures, or to incorporate sealing.
• Winding Change Motor windings can be changed to modify the motor speed and torque characteristics, and / or to optimize for best compatibility with a chosen drive.
• Temperature Range Metal parts of the motor will normally withstand a fairly wide temperature range. Insulation materials, magnets, bearings, and lubricating grease or oil may need to be changed to withstand wide temperature variations.