Medical & Ventilator Voice Coil Actuators
Featured Product from GEEPLUS Inc.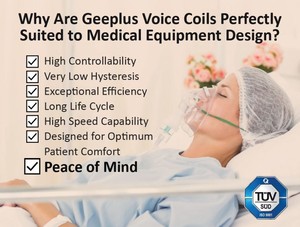 Because of the precision, control and reliability required in life-sustaining medical equipment, Geeplus has found a niche as the worldwide leading supplier of actuators in ventilator applications. Our customized voice coil actuators are found in a healthy percentage of high end medical ventilators today because, well, they are frankly the best in the world–or so we're told by the engineers that design the most advanced ventilator machines on the market today.
Essential Benefits and Characteristics
Very low hysteresis is a common requirement for actuators used in advanced medical equipment to facilitate extremely precise and repeatable flow or pressure control. Geeplus incorporates flexure bearings and rolling bearings into select VCAs, combined with an extremely rigorous testing process and 100% traceable test results in our in-house manufacturing process to consistently surpass the level of performance and quality required.
Various Medical Uses
Additional medical applications where Geeplus products are frequently found include metering and dosing in medical pumps, blood analysis/handling equipment, cleaning and sterilization machinery, advanced ambulance bed mechanisms, X-ray beds, bone density analysis machines, tactile sensitivity measurement devices, heart valve testing equipment and more.
Precision control, exceptional reliability, low noise and small/lightweight capabilities are all major benefits here.