Solenoid Lower Cost Semi-Proportional Control
Featured Product from GEEPLUS Inc.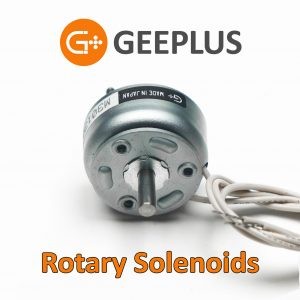 Geeplus has taken an innovative approach to an old established product and created a cost effective alternative to many other proportional rotary solenoid solutions. Most engineers will have heard of or used a rotary solenoid and will know these are a cost effective solution for simple on/off rotational movement over a short angle ranging from 25° to 95° depending on duty cycle. They also deliver high torque over this short angle of operation and with intermittent operation, can achieve response times within a few milliseconds.
What these components have always lacked, is a level of controllability – a requirement which Geeplus has not only addressed, but succeeded in making a ground breaking change.
By incorporating an external housing and a clever spring arrangement, the once simple on/off rotary solenoid has been given a rotation which is proportionate to the excitation current. While the level of control is not as precise as that achieved by a purpose built proportional solenoid or a voice coil motor, in applications which do not require such a high level of accuracy, the new design makes a cost effective semi proportional rotary solenoid solution. And, with a range of rotary solenoids varying from 19mm to 87mm in diameter and an angle of operation ranging from 25° to 95° there is sure to be a solenoid to fit the majority of applications – especially those which are cost sensitive yet still require proportional control.
New Solenoid from Geeplus Offers Semi-Proportional Control at a Fraction of the Price
Geeplus is a worldwide leader in the design and manufacture of precision electromechanical actuators. You can find Geeplus online at www.geeplus.com, as well as on social media on LinkedIn, Facebook, YouTube and Google+.