Arc Resistant Limitamp® AR
Product Announcement from GE Industrial Solutions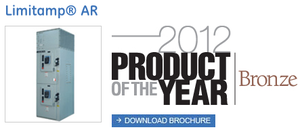 Limitamp AR is the Arc Resistant version of the Limitamp. It provides a solution for arc flash conditions, increasing the safety and protection defined in the applicable IEEE standards. The new Limitamp AR Medium Voltage Motor Controllers meet and exceed the safety requirements of the market, offering more reliable operation and control of Medium Voltage installations. It is available in one and two-high versions of FVNR, rated for 2.4-7.2kV-400A, 5kV-800A, 3000A BUS NEMA 1, 50kA motor starters.
Limitamp® AR: For That Extra Margin of Protection
GE's Arc-Res Limitamp is the solution for applications where an extra margin of protection is essential. It meets the IEEE C37.20.7 standard and provides Type 2B protection for personnel during an arc flash.
Rugged Enclosure Design: Directing Energy and Exhaust Away from Personnel
Limitamp AR is designed to contain and redirect the arc flash energy and exhaust gases up through special vent flaps at the top of the enclosure and away from the system through a plenum. The side panels are constructed from heavy-duty, reinforced, 0.12 thick steel with a welded bottom plate. The low voltage box is also sealed, protecting it from exhaust gases and other materials.
Safety. Reliability. Ease of Maintenance.
For the protection you need when you need it, you can depend on the Limitamp AR. Currently the Limitamp AR is offered in one- and two-high full voltage nonreversing NEMA 1, 50kA motor starters, rated for 2.4-7.2kV.
---