Double Containment Vinyl Piping System
Product Announcement from GF Piping Systems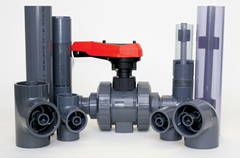 New Double-See™ Double Containment Vinyl Piping System from Georg Fischer Makes Installation Fast and Easy.
GF Piping Systems has introduced Double-See™
in response to market demand for an improved pressure-rated double containment system for transporting hazardous liquids. The new system offers a simplified installation method, a patented closure coupling design that allows conformance to the ASME B31.3 test inspection requirements, and a unique-to-the-market 3D thermal expansion compensation feature.
"With other double containment piping systems, the primary and secondary pipes must be cut to different lengths," explains Gary Sample, GF Piping Systems Product Manager. "With our new Double-See system, both primary and secondary pipes are cut to the same length and can be joined simultaneously. This saves significant time and prevents potential mistakes caused by staggered pipe-cut measurement errors."
GF's Double-See Piping System offers versatile installation options, assembled and tested fittings, and a unique pipe cut-length guidance system which provides a truly simplified approach to installation. The piping systems are available with a complete selection of pipe, fittings, leak detection and access tees, closure couplings and termination fittings. In addition, an innovative valve-in-valve design is offered that allows full containment pressure rating.
Double-See is available in PVC and CPVC; either material may be primary or secondary (PVC × PVC, CPVC × PVC, CPVC × CPVC) with Clear PVC always being an option for the containment pipe. System size options range from ½" x 2" to 6" x 10," meeting virtually any application requirement.
Installation versatility allows simultaneous joining throughout a system or in combination with patented closure couplings which enable practical compliance with the ASME B31.3 requirement for visual inspection of all primary joint connections during the pressure test before closing the secondary piping joint.
In addition to providing the obvious benefits for safe transport of hazardous liquids, the Double-See Containment System fulfills local, state and federal environmental and safety regulations.
The new piping systems are suitable for a wide range of applications including water and waste water treatment, chemical delivery, dosing and processing, microelectronics, life sciences, metal working/finishing, waste collection, and many others.
GF Piping Systems supplies a full range of plastic pipe, fittings, valves, actuators, rotameters, fusion machines, secondary containment, heat exchangers, custom products, and sensors and instrumentation for industrial process control. For further information, contact GF Piping Systems, 2882 Dow Ave., Tustin, CA 92780-7258; Toll Free (800) 854-4090, Fax (714) 731-6923;
e-mail: us.ps@georgfischer.com; Web: www.gfpiping.com
For details on the Double See System, see click here..
---