Ultrasonic Flow System
Product Announcement from GF Piping Systems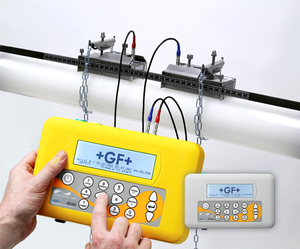 GF Piping Systems Introduces Ultrasonic Flow Measurement/Logging Systems with Uninterrupted Process Installation and Operation
GF Piping Systems has added an Ultrasonic Flow Measurement and Logging Family to its extensive line of flow and analytical measurement instrumentation. Featuring advanced DSP technology, the new ultrasonic family includes two portable models, Portaflow 220 and 330 ,and two fixed installation models, Ultraflo 3000/4000. Both system types display instantaneous fluid flow rates or velocity and totalized values and install quickly and easily without interrupting the process stream. The systems' data loggers can output data directly to a PC or printer or store data in the instrument's memory for downloading at a later time.
The new instruments incorporate 'Transit-Time' (time of flight) DSP measurement capability, which is ideal for clean media and process liquids. These devices provide a sampling resolution of 50 pico-second and continuous single level indication to the display. Other high performance capabilities include a bi-directional velocity range of 0.33 ft/s with maximum velocity of 65 ft/s. with repeatability of ±0.5% of measured value, or ±0.02m/s whichever is greater.
Instruments are supplied with two types of transducer sets to accommodate pipe sizes ranging from as small as ½" to as large as 78 inches in outside diameter(OD). Depending on model, the systems can record and store up to 98,000 (98k) or 200,000 (200k) metering points.
The flow sensors or transducers connected to the ultrasonic monitoring instrument are attached directly to the outside of the pipe being monitored, allowing for complete installation without disruption to the existing process or equipment. This is especially important to high-purity and ultra-pure applications. Since the system does not come in contact with the fluid being monitored, there is no risk of contamination to the process fluid or exposure of the monitoring equipment to corrosive or toxic liquids.
"Many customer applications cannot have moving parts or intrusive systems because they can shed particles and contaminate the process stream," explains Anant Babtiwale, GF Piping Systems Instrumentation Product Manager. "With the sensors strapping onto the outside of the pipe, this problem is completely eliminated."
In addition to the advantages of non-invasive operation and portable or fixed installation, the new Ultrasonic Systems offer a number of other features that provide optimum functionality, flexibility and operational convenience. These include a variable current or pulse output proportional to the detected flow rate that enables the instrument to interface with a wide range of external control devices. Unlimited pressure rating eliminates the need for different versions to handle high pressure applications and no moving parts minimize maintenance and associated costs.
Other features include a large, easy to read graphic display with switchable backlighting and an easy to use dual function keypad. Logged data can be displayed graphically or as text, and can be controlled either manually or automatically for unattended operation. An interactive QuickStart menu simplifies system set-up and installation and allows virtually immediate service use. Since the system requires no overhead for additional fittings or plant modifications, installation costs are minimized.
GF Piping Systems' new ultrasonic systems are suitable for a wide range of applications in such industries as water treatment/distribution, chemical processing, cooling, microelectronics, ship building, food and beverage, building services, energy management, power generation, petrochemical, oil/gas, pharmaceuticals, power plants, and manufacturing.
"The Ultrasonic Family effectively rounds out our existing product range to provide a truly comprehensive flow measurement offering," says Anant Babtiwale, Instrumentation Product Manager. "With our existing turbine, paddlewheel, and magmeter sensing technologies, customers can now come to us for virtually any flow measurement need. And, with our capability to optimize the ultrasonic instrumentation software, the new systems can be easily configured with the sound velocities for all GF Piping Systems' plastic pipe materials."
Portable Systems PF220 and PF330
The two hand-held portable systems offer an ideal solution for remote or temporary sites. Featuring lightweight construction (just 2.42 lbs. including battery), these systems are designed for 20 hours of continuous battery operation. The standard PF 220 accommodates sensor ranges for pipe sizes from ½" to 40" OD while the PF330 model measures sensor ranges for pipe sizes up to 78" OD. For data logging requirements, the PF330 records and stores up to 98,000 (98k) metering points. The units are supplied in a rugged IP67 carrying case fitted with a foam insert for added protection during transport.
Fixed Ultrasonic Systems U3000 and U4000
The U3000/U4000 Ultrasonic Systems provide stationary solutions for flow measurement and logging and accommodate sensor ranges for pipe sizes from ½" to 78." For large data logging requirements, the U4000 records and stores up to 200,000 (200k) metering points.
GF Piping Systems supplies a full range of plastic pipe, fittings, tubing, valves, actuators, rotameters, fusion machines, secondary containment, tank linings, heat exchangers, custom products, and sensors and instrumentation for industrial process control. For further information, contact GF Piping Systems, 2882 Dow Ave., Tustin, CA 92780-7258; Toll Free (800) 854-4090, Fax (714) 731-6923;
e-mail: us.ps@georgfischer.com; Web: www.gfpiping.com
For details on the Ultrasonic System, see the Measurement and Instrumentation section on the www.gfpiping.com web site.
---