Polymers to Pheromones - Organic Chemicals Catalog
Product Announcement from GFS Chemicals, Inc.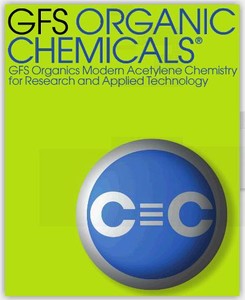 GFS Chemicals' products are the building blocks and intermediates for the manufacture of a vast array of high performance materials and specialty products.
The latest Acetylene Catalog and Handbook is now available on line and in print from GFS Chemicals. From polymers to pheromone precursors, flavors & fragrances, colors & dyes, coatings, electronics, pharmaceuticals & more.
Recognized for innovation in chemistry GFS makes thousands of specialty alkynes, olefins, silanes, halogenated organics, Grignards & heteroaromatics. We supply bulk quantities of organic & inorganic products from multi-kilo to metric tons. We can supply bulk quantities of organic products from multi-kilo to metric tons.
Customers benefit from our knowledge and expertise in the formulation of specialties derived from liquid ammonia chemistries. These include acetylide couplings, alkali metal/amide reactions, isomerizations, Birch reductions, Grignard reactions and organolithium chemistries and more.
For in depth data on chemicals, applications and formulas access our comprehensive easy to search online 146 page catalog Or e mail us via links on this page to request a hard copy
---