Custom solutions for aerospace bearings
Featured Product from GGB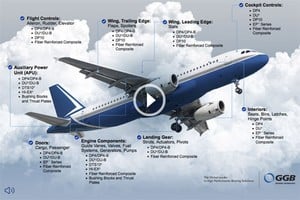 Aerospace
For nearly 50 years, GGB has been providing the aerospace industry with high performance plain bearings to meet stringent demands for a higher level of safety and lighter weight. Certified to the AS 9100D quality standard, we fulfill the industry's quality management system requirements for the manufacture of metal-backed aerospace bearings and fiber reinforced composite bearings and washers, while offering full traceability as well as dimensional and material certification as standard.
Customer Support for Custom aerospace bearing Solutions
Today, all major manufacturers of commercial and military aircraft as well as their Tier-1 suppliers rely on GGB for light weight, maintenance-free bearings for both fixed and rotary-wing aircrafts.
Our aircraft bearing solutions are used across a broad range of aerospace applications from landing gear, flight controls and engines, to passenger seating and a wide variety of made-to-measure applications for the Aerospace industry:
Landing Gear Struts
Wing Flap Actuators
Hydraulic Fuel Pumps
Flight Control Systems
Electric Actuators
Engines
Aircraft Interiors:

Seat Mechanisms
Overhead Baggage Compartments
Cargo Bay Floors
Latches
Hinges
Connect with us on our social media channels:
Watch>>>GGB — Your Bearing Solutions Provider
About GGB Bearing Technology
GGB is the world's leading manufacturer of high-performance, self-lubricating and prelubricated bearings with production facilities in the U.S., Germany, France, Brazil, Slovakia and China. The company serves more than 50,000 customers worldwide in a broad spectrum of applications and industries including automotive, fluid power, agricultural and construction equipment, sports and recreation equipment, renewable energy, primary metals and general industrial. Its product offerings include metal-polymer, solid polymer, filament wound and metal bearings and bushing blocks. Also provided are industry-leading R&D and testing capabilities, flexible manufacturing, superior technical support and a global network of distributors. www.ggbearings.com.