Boot, Bonnet and Door Hinges
Featured Product from GGB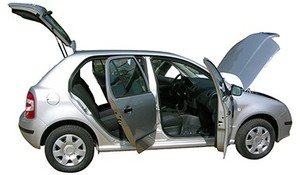 Boot, Bonnet and Door Hinges
DP4®
BEARING APPLICATION REQUIREMENTS
Before the use of metal polymer plain bearings, grease was applied to boot, bonnet and door hinges to act as a lubricant between the pin and the housing during the opening and closing of the hinge.
The disadvantages of this greased solution are:
•Cost of purchasing the grease and application to the hinges during assembly of the vehicle
•Repeated squeaking from the hinges during operation once the grease has dried
•Need to re-grease the hinges during servicing
•Risk of soiling the clothes of the driver and passengers and pollution of the environment
•Visual eyesore when the grease runs down from the hinges onto the car body
GGB AUTOMOTIVE BEARING SOLUTION
The majority of today's passenger vehicles, vans and trucks are fitted with hinges that use self-lubricating GGB DP4 metal polymer plain bearings.
The structure of GGB DP4 automotive bearings consists of a strong steel backing, to which is bonded a porous bronze sinter interlayer impregnated and overlaid with a PTFE enriched wear resistant bearing layer.
This highly resistant composite bearing structure can withstand specific loads of up to 250 MPa / 36 000 psi and temperatures up to 280°C / 536°F which exceeds the curing temperatures of the cataphoretic paint process.
GGB AUTOMOTIVE BEARINGS - BENEFITS
In automotive hinges, the excellent self-lubricating properties of GGB DP4 automotive bearings offer the following benefits:
•Maintenance-free and noise-free operation
•Smooth and easy operation with a comfortable rotation torque of the hinge when the door is opened and closed
•Possibility to reduce costs by increasing the housing tolerance and burnishing the bearing after assembly without an increase in rotation torque of the hinge
•Reduced door drop and improved service life thanks to the superior load and wear resistance of the bushings
•Improved corrosion resistance with special surface protection coatings applied to the bearings
watch>>>GGB — Your Bearing Solutions Provider
GGB is the world's leading manufacturer of high-performance, self-lubricating and prelubricated bearings with production facilities in the U.S., Germany, France, Brazil, Slovakia and China. The company serves more than 50,000 customers worldwide in a broad spectrum of applications and industries including automotive, fluid power, agricultural and construction equipment, sports and recreation equipment, renewable energy, primary metals and general industrial. Its product offerings include metal-polymer, solid polymer, filament wound and metal bearings and bushing blocks. Also provided are industry-leading R&D and testing capabilities, flexible manufacturing, superior technical support and a global network of distributors.