Latching 350A Sealed Contactor - 12 to 750 volts
Product Announcement from GIGAVAC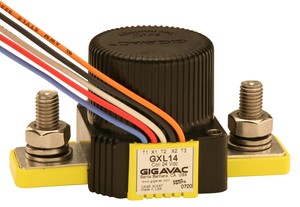 The GXL14 operates without continuous coil power and switches both DC and AC Voltages to 750 volts. This low cost Single Pole Single Throw (SPST) RoHS compliant hermetically sealed contactor is just 2.25 inches (57 mm) tall, weighs 1.1 pounds (0 .5 Kg), and can operate in nearly any environment from -55 to +85C. Optional SPST auxiliary contact gives true indication of the main contact position.
.
According to Markus Beck, GIGAVAC VP of Power Products, "The GXL14 launches our latching line of contactors that operate without continuous coil power. This feature is preferred in applications such as solar power, power back-up systems, and vehicle systems operating on battery power. By conserving the power normally required to operate a standard relay, the GXL series allows the user greater flexibility in design."
The latching relay requires only a momentary pulse to engage and release the contacts. In the closed position the contacts are held by a permanent magnet. This feature allows the relay to operate continuously without heat generation from the coil.
The GXL14 was developed for the transportation industry including Recreational Vehicles, emergency vehicles and mining equipment, as well as solar power and power back-up systems. The GXL14 measures only 57mm (2.25 inches) tall, 60mm (2.26 inches) wide and 115mm (4.52 inches) wide and comes with easy-connect chassis level power terminals that allow for installation without the need to bend large power cables or develop special bus bars. It can be mounted in any position, and used in nearly any harsh environment including under water and at temperatures from -55°C to 85°C. An optional Single Pole Single Throw (SPST) auxiliary contact driven off the main armature gives true indication of the main contact position.
The GXL14 is in stock for immediate delivery. GIGAVAC accepts all major credit cards and generally ships the same day the order is received. GIGAVAC's worldwide network of representatives can deliver the products in the user's country and currency at the lowest possible cost.
---