PCI Based Quad and Octal T1 E1 Cards
Featured Product from GL Communications, Inc.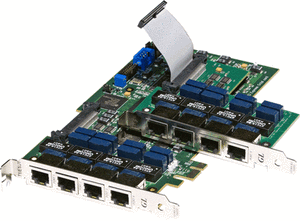 The Octal & Quad T1 E1 board is an enhanced PC-Based T1 and E1 solution that utilizes familiar computer user interfaces, to provide comprehensive and versatile T1 or E1 testing capability at a competitive price.
Increased Performance with 64-bit Support
GL's Octal & Quad T1 E1 boards are high density and provide Four (4) or Eight (8) RJ-48 T1 E1 ports and multiples thereof. For example, configurations of 8, 12, 16, 64 T1 E1s in a single rack are possible.
GL's T1/E1 analyzers supports both 32-bit and 64-bit applications. 64-bit support improves the performance of Protocol Analysers viz., ISDN, ISUP, GSM and allow users to monitor Hundreds to Thousands of Signalling Links simultaneously and continuously. Also, provides improved processing and response time for Statistics, Call Data Records, Search and other such functions.
Enhanced CCA application allows better processing and response time for multiple instances of CCA applications for long run tests. Similarly, all basic Intrusive and Non Intrusive applications such as BERT, Monitoring Applications, Oscilloscope, Spectral Display etc provide better processing and response time for multiple instances of monitoring and simulations windows.
MAPS™ Protocol Emulators are enhanced to provide improved performance for load generation and simulation of Protocols on 16 T1/E1 ports simultaneously.
Client Server commands support Thousands of Tasks simultaneously with number of successful thread creation. This helps to run Tx Rx File, Tx and Rx Tone and Tx Rx Digits on 24/31 Timeslots * 8 Ports * n (where n is the number of Dual HD Universal T1 E1 Cards)
Main Features
It is introduced with the following enhancements:
Software Selectable T1 or E1 interfacing along with Drop and Insert
PCI Express x1 Lane/Board
Monitor the T1/E1 line conditions such as frame errors, violations, alarms, frequency, power level, and clock (or frame/bit) slips.
TDM, ISDN, SS7 – High Density Voice
Physical layer analysis includes ability to send alarms and errors via SNMP Traps
All protocol analyzers now include frame length in protocol statistics selection choice for data link layer
VoIP, Frame Relay, Multilink Frame Relay, PPP and Multilink PPP, HDLC
Most all "basic applications" and "special applications" are available for Quad and Octal T1 E1 cards
Comprehensive Analysis / Emulation of Voice, Data, Fax, Protocol, Analog, and Digital signals, including Echo and Voice Quality testing
Call Recording, Generation, and Monitoring for hundreds to thousands of calls in one platform
Windows and Linux Drivers for Open Source Applications
Media (VoIP) Gateway, IP PBX, and IVR Applications i.e. Asterisk (TM)
Routing and Bridging emulation over Multi T1/E1 WAN interfaces using MLPPP (Multi Link PPP) and MFR (Multi Link Frame relay) protocols
Supports "Cross-Port Through" and "Cross-Port Transmit" Modes – these configurations make cabling with Drop/Insert and Fail-Safe Inline Monitoring very easy
High Density and High Speed – The boards (with Direct Memory Access) are significantly faster and significantly more efficient
Octal boards are compatible with dual, quad, and higher core motherboards and software that simulate dual and quad cores (hyper-threading)
Supports both 32-bit and 64-bit Windows® operating system.
GL's offers other popular forms of T1 E1 analysis hardware such as
Dual Express T1 E1 Boards – 2 port PCIe based cards for compatibility with newer motherboards
Portable USB T1 E1 Analyzer with Dual T1 E1 ports & smallest form factor
tProbe™ T1 E1 Analyzer Unit - an enhanced version of USB based T1 E1 VF & Serial Data analyzer with expansion capabilities
Universal T1 E1 Analyzer Boards - a dual port PCI based T1 E1 analyzer offering higher speed and smaller dimensions. Please call us for more information.
tScan16 - a high-density T1/E1 board with 16 ports and the newer PCIe (x1) bus interface.