tScan16™ - 16 T1/E1 Rx Only Ports
Featured Product from GL Communications, Inc.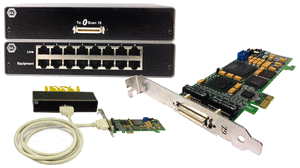 GL's tScan16™ is a high-density T1/E1 board with 16 ports and the newer PCIe (x1) bus interface. The sixteen T1/E1 ports are Receive-only ports optimized for high performance voice and data capture, monitoring, and analysis requirements.
tScan16™ extends the family of GL's T1/E1 platforms with greater density, increased ports, and reduced power.
Increased Performance with 64-bit Support
GL's T1/E1 analyzers supports both 32-bit and 64-bit applications. 64-bit support improves the performance of Protocol Analysers viz., ISDN, ISUP, GSM and allow users to monitor Hundreds to Thousands of Signalling Links simultaneously and continuously. Also, provides improved processing and response time for Statistics, Call Data Records, Search and other such functions.
Enhanced CCA application allows better processing and response time for multiple instances of CCA applications for long run tests. Similarly, all basic Intrusive and Non Intrusive applications such as BERT, Monitoring Applications, Oscilloscope, Spectral Display etc provide better processing and response time for multiple instances of monitoring and simulations windows.
Common Features
Main Features
Software selectable 16 Rx Only T1 or E1 interfaces
PCI Express x1 Lane/Board
Convenient High Density Cabling
Monitor T1/E1 line conditions such as frame errors, bipolar violations, alarms, frequency, power level, and clock (or frame/bit) slips.
Comprehensive analysis of ISDN, SS7, Frame Relay, Multilink Frame Relay, PPP and Multilink PPP, HDLC, and many more protocols
All protocol analyzers now include frame length in protocol statistics selection choice for data link layer
Comprehensive analysis of Voice, Data, Fax, Protocols, and Digital signals, including Echo and Voice Quality testing
Call Recording, Analysis, and Monitoring for hundreds to thousands of calls in one platform
Most all "Rx Applications" are available with tScan16™.
Supports both 32-bit and 64-bit Windows® operating system.
Optional Applications
Protocol Analysis: ISDN, HDLC, SS7, GSM, GPRS, UMTS, Frame Relay, ATM, PPP, TRAU, T1 Facility Data Link , E1 Maintenance Data Link (Sa HDLC, and SSM), and more
WCS Modules: Rx files, digits, Multi-channel BERT, DSP operations, Dynamic DSP capability
Capture & Analysis : DTMF / MF / MFCR2, Digits, Tones, Voice, Modem, Raw Data
Call Data Records
Voice Band Analysis Software
Multi-Channel BERT
Protocol Identifier
Signaling Transitions Recording
Real-time Strip Chart
Real-time Multichannel Audio Bridge
Multiplex / Demultiplex Software
Network Surveillance, Voice Quality Testing
Echo and Delay Measurements