End to End Voice Quality Testing (POLQA v3)
Featured Product from GL Communications, Inc.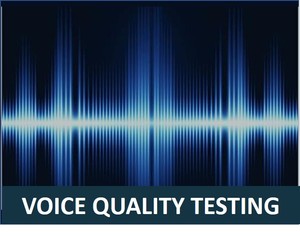 GL's VQT application is available with the following options:
POLQA only (Optional upgrade POLQA v3)
PESQ only
POLQA (Optional upgrade POLQA v3) with PESQ
ITU Algorithms
The GL Voice Quality Testing (VQT) product utilizes several industry standard ITU algorithms in order to measure the speech quality of a transmitted voice file. VQT compares the original unprocessed signal with the degraded version using POLQA (ITU-T P.863) and PESQ (ITU-T P.862+P.862.1) international standard voice quality test methods. The GL VQT can either be installed or operated on a stand-alone system or reside as an optional feature, on other GL products. GL's VQuad™ also supports the POLQA (ITU-T P.863) standard for voice quality analysis
Perceptual Objective Listening Quality Analysis (POLQA)

Operations Performed by POLQA
Results Provided by POLQA

Perceptual Evaluation of Speech Quality (PESQ)

Operations Performed by PESQ
Results Provided by PESQ

ITU.56 Measurements
Features
Voice Quality Testing (VQT) using POLQA ver 2.4 (ITU-T P.863), optional upgrade POLQA ver3 (ITU-T P.863), and PESQ (ITU-T P.862)
Updates associated with POLQA v3 include a redesigned perceptual model for Full Band Audio analysis which is validated for VoLTE, 5G and OTT apps (supporting EVS and OPUS codecs)
Supports PESQ ITU-P.862.2 and POLQA for Wideband
POLQA ITU-T P.863 for next generation voice quality testing supporting NB (8000 sampling), WB (16000 sampling) and SWB (Super Wideband) (48000 sampling)
Evaluate audio quality with MOS, E-Model, SNR, jitter, clipping, signal level, noise level, and delay measurements
Measure packet jitter in VoIP networks
Analyze the effects of codec compression in wireless networks
VQT supports analysis of PCM16 files consisting raw data as well as u-law/a-law encoded data
VQT also support analysis of uncompressed wav files consisting of narrow band, wide band and super wide band signals
Provides POLQA and PESQ Mean Opinion Score (MOS) results
Sophisticated search features on the results within the VQT application
Playback and display of audio files from within VQT using Goldwave software
Complete automatic logging of all results (both file and database) with the ability to import log back into VQT.
All results along with call control information are sent to central database. Query results remotely using the WebViewer™
Support for Central DB Primary and Secondary IP addresses for backup and redundancy
Real-time mapping (most countries supported) of results when optional GPS is used in conjunction with VQuad™
Command Line Interface (CLI) support to control VQT nodes remotely. Supported on Windows® and Linux
POLQA v3 Upgrade Enhancements
POLQA v3 Super Wideband supports 14kHz to full audio bandwidth up to 24kHz.
Full band analysis improves accuracy in assessment of codecs such as EVS, OPUS, AAC and LC3, as these codecs are used in many OTT applications.
With full band support the discriminative power of POLQA at the upper high-quality range of the MOS scale is increased.
Current OTT voice services using VoLTE/5G include highly dynamic delay jitter which leads to variations of the duration of very short pauses during speech. POLQA v3 handles these variations with increased precision.
POLQA v3 is less sensitive to linear frequency distortions than POLQA v2.4. This makes measurements less dependent on the frequency characteristics of headsets.
Perceptual model of POLQA v3 is significantly improved and streamlined.