APIs for Test Automation and Remote Access
Featured Product from GL Communications, Inc.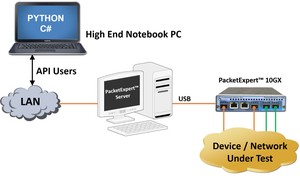 PacketExpert™ finds use in testing a wide range of networks – from testing individual links/switches, testing local Ethernet/IP networks (LAN), end-to-end testing of Wide Area Networks (WAN), testing Core/MPLS networks, validate Service Level Agreements (SLAs) and much more. It's available in different form factors – from Rack based High density 12-port/24-port mTOP™ platform, Portable units, and Tablet-based units.
The PacketExpert™ provides access to all functionalities listed below remotely using Command Line Interface (CLI) and APIs through various clients such as C#, Python, and TCL.
Wirespeed BERT
Smart Loopback
RFC2544 Tests (Throughput, Latency, Back-to-Back, Frame Loss)
Packet Capture and Replay
Packet Broker (Tap-Filter-Aggregate-Modify-Output)
WAN Link Emulation
Multi-stream Traffic Generation and Analysis
ExpertTCP™ (RFC6349)
ExpertSAM™ (ITU-T Y.1564)