Aircraft Radio Communications Made Easy (ED137)
Featured Product from GL Communications, Inc.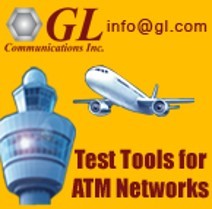 GL's Message Automation and Protocol Simulation (MAPS™) ED137 Radio simulates the functions of Controller Working Position (CWP) and Ground Radio Station – GRS (or Radio Media Gateway - RMG) entities in Air-to-Ground radio calls. The product supports transmission and detection of various RTP audio traffic such as real-time audio, voice file, digits, single tone and dual tones. The MAPS™ profile editor feature allows users to easily configure multiple CWPs and GRS profiles, allowing to simulate multiple CWP and GRS entities. Each simulated radio will have similar capabilities and its own set of parameters like Contact address, Radio type, Frequency-Id, and Permitted user list which can be configured in the profiles.
At the recently held World ATM Congress event in Madrid, Spain, the GL's MAPS™ ED137 Radio Emulator capability was showcased. It was connected to a Rohde & Schwarz radio located in Romania with the help of the Romanian Air Traffic Services Administration Staff (Romatsa). This radio is responsible for a certain sector of the Romanian airspace.
Signalling and Traffic Simulation
Support for Multiple Radio Simulation (up to 200 Radios) within single instance of the software
Supports hundreds of simultaneous calls and complete automation of bulk call generation with traffic
Linked Session Management to group and identify all calls belonging to particular Radio
Send and receive live speech, pre-recorded speech files, digits and tones
Set impairments (Packet Loss, Packet Effects and Latency) in relevant profile in real time
Provides aggregated voice quality statistics such as MOS/R-Factor, packet loss, duplicate and out of sequence packets
Supports user-defined and automated traffic actions on the call
Supports all standard codecs, including G.711 (mu-Law and A-Law) and G.729
Applications
On field testing and troubleshooting by technicians
In-the-field installation, system configuration and commissioning
Functionality testing of nodes in next generation VoIP ATM
Load testing and background traffic generation
QoS monitoring - analyze calls for voice quality (MOS), packet loss, jitter, latency, etc.
Centralized monitoring of Air Traffic
Real-time and/or historical data analysis