Evaluation and Testing of Public Address Systems
Service Detail from GL Communications, Inc.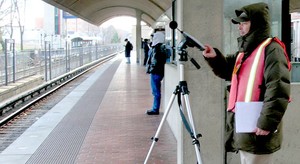 Recently, a public transit operator of a large metro train system utilized GL's expertise in evaluating their PA system at select above-ground metro stations. The PA system required improved intelligibility and additional coverage in order to address adverse customer feedback. GL conducted a comprehensive study to (i) assess the existing system and (ii) recommend steps to improve speech intelligibility and coverage at the metro stations. We made our recommendations based on the need to meet or exceed NFPA 72/2006 requirements for an industry standard Common Intelligibility Score of 0.7.
GL's engineers used Speech Transmission Index for Public Address (STI-PA) standard to assess speech intelligibility objectively. Enhanced Acoustic Simulator for Engineers (EASE) software was used to conduct simulation studies and recommend steps to improve intelligibility and increase coverage area. Our engineers created 3-D computer models using as-built drawings and detailed site measurements. With the use of 3-D models and ambient noise measurements, acoustic environment of the areas requiring PA coverage was simulated. We analyzed the results of simulations studies and recommended optimal speaker type, locations, and power levels.
Our project management services are very cost efficient and include:
Testing of high speed telecom networks (T1, E1, T3, E3, OC-3, OC-12, STM-1, STM-4, etc)
Testing of VoIP, ATM and Central Office switches
RSSI field strength measurements and voice quality testing of public safety land mobile radio systems
Drive testing to verify commercial cellular service coverage
Assessment and audio survey of public address systems in transit/metro stations