Fax Analysis and Simulation over IP, TDM, & PSTN
Featured Product from GL Communications, Inc.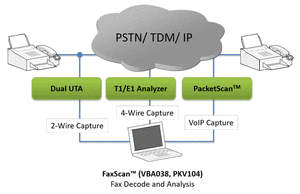 GL's Fax Simulator is capable of bulk (100's) fax calls over many T1/E1s, over two-wire FXO-FXS lines, and over Ethernet/IP networks. This software is capable of transmitting and receiving fax calls. The software can emulate many "virtual fax machines" – transmitter as well as receiver.
Fax simulator for IP supports both RTP G.711 Pass Through Fax Simulation (PKS200) and T.38 Fax Simulation over UDPTL (PKS211).
Fax simulator for TDM supports T.30, V.17, V.27, V.29, V.33, and V.34, with TX and RX fax rate from 2400 bps to 33,600 bps. Supports all variations of fax, such as page size, resolution, data rates – including high speed fax such as V.34 and codec types.
FaxScan™ application is a fax decoder/demodulator application that processes 2-Wire or 4-Wire captures and analyzes voiceband traffic files for fax traffic.
FaxScan™ application processes captured files and produce the Fax TIF image and other transmission information. Some important features -
Handles audio streams sampled at 8-Khz.
Handles G.711 A-Law and μ-Law streams of 8-bit
Handles A-Law and μ-Law streams extracted from RTP sessions within PCAP files
Fax traffic - V.17, V.21, V.27, V.29, V.33, V.34
The FaxScan™ module provides statistics for Fax traffic analysis including Fax Status, Standard, Data Rate, Resolution, Encoding, Page Size, Error Lines, Total Lines, Total Bytes, and Total Pages.