High Density Mobile Data Traffic Generation
Featured Product from GL Communications, Inc.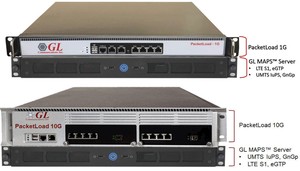 GL's MAPS™ Server with PacketLoad appliance supports massive simulation of UEs (up to 500000) with high density (up to 4 Gbps or 40 Gbps) mobile data traffic simulation for both UMTS, and LTE networks.
The solution allows to encapsulate the generated packet data within GTP headers and transmit through the gateway points such as SGSN & GGSN, or SGW & PGW. It allows simultaneous simulation of multiple sessions per user to verify bearer allocation bandwidth at the end points. Currently, the solution offers stateful TCP/HTTP, and PCAP Replay traffic types. PacketLoad supports HTTP traffic simulation with the base requirements such as port number, server IP address, and pre-canned HTTP traffic file.
Modes of Operations
Transparent Mode (GTP to GTP Traffic) - Transparent mode supports the user plane GTP packets through a DUT that is transparent to the network and passes the traffic without any IP translation.
Routed Mode (GTP to IP) - Routed Mode supports the packet transmission and reception services through a gateway, where the network packets from PacketLoad will pass through a Gateway and converts the traffic mode form GTP to IP, and sends the IP traffic for further analysis.
Mobile Data Traffic Statistics
Link level

Per Port

TX/RX Rate/s
Packets Sent/Received
Bytes Sent/Received

Packet

Payload Size via MSS (1B to 9400B)

TCP/IP

SYN , SYN_ACK
ACK
FIN
RST
HTTP POST / RESPONSE
TCP/IP Checksum Errors

PCAP Replay

Packets Sent and Received

UDP

Packets Sent and Received

URL

Connections Established
FW Addresses Not Blocked
URL HTTP Wrong Response RX
Call Statistics and Graph
Provides statistical information about Total Calls, Active Calls, Completed Calls, Passed Calls, Failed Calls, and Calls/Sec. It is also possible to categorize the statistical information as per the call handling scripts.
Message Statistics option logs the number of times each message being transmitted (Tx Count) or received (Rx Count).

Call Graph (Bar/Line/Pie charts) statistics to plot graphically the Bandwidth on each port, HTTP_latency, TCP_Latency, and UE related statistics.