MAPS™ Central Office Switching Simulator
Featured Product from GL Communications, Inc.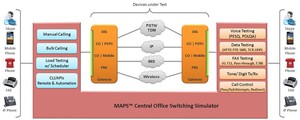 MAPS™ Central Office Switching Simulator converts a PC (portable, tower, rack-mount) into a Digital Central Office Switch Simulator, MTSO (Mobile Telephone Switching Office), PBX and Switch, complete with T1, E1, POTS, VoIP and Wireless Interfaces.
MAPS™ Central Office Switching Simulator is ideal for simulating and testing advanced telecom networks and products, including PBX, switches, gateways, and transmission systems. The simulator performs complex switching functions for routing mobile phone calls as well as landline calls, while providing voice/data throughput, and protocol conversion during call switching. MAPS™ CO platform can emulate both ends (or one end) of a complex switching network, and the switching equipment itself such as the Mobile Switching Center (MSC) for routing mobile phone calls to/from local PSTN telephone exchange. It also provides resources needed to efficiently serve a mobile subscriber such as registration, authentication, location updating and call routing. All signaling, and traffic actions are easily controlled via scripts and provides all the flexibility required from a telephony test equipment.
The CO Switching Simulator can also be used to verify all Wireless, IP and T1/E1 signaling protocols over different transport networks including IP, ATM, and TDM within the network infrastructure. These protocols include variety of GSM/3G, UMTS/3G, T1/E1 CAS, PRI ISDN, SS7, FXO, FXS, No Call Control, and VoIP protocols (SIP, H.323, MEGACO, MGCP, SIGTRAN). It can also simulate a variety of traffic generation such as, digits, tones, voice file, fax, video file, sms, email, and http depending on the.
The CO Switching Simulator can be controlled remotely using the optional Remote MAPS™, Client/Server applications (CLI), and scripting with which users can capture the performance of networks in a wide variety of scenarios. The Remote Capability allows full control of many COs from a single client as well as many clients accessing a single CO.
Features
A single-box system to test Central Office, MTSO, PBX, Gateway, Analog/ VoIP Networks
Provides a complete network infrastructure for Wireless, VoIP, ATM, digital T1/E1 trunks, SS7, ISDN, and POTS (Plain Old Telephone Set)
Supports functions such as -

Call Switching/Routing among VoIP-Wireless- TDM-PSTN networks with protocol conversion capability
MAPS™ APS system with 2 Octal T1 E1 Cards supports up to 384 analog ports (2-Wire FXO and FXS) and supports full central office simulation with two-way calling
Trunking Gateway and Residential Gateway simulation using MEGACO/H.248 for conversion of media from one network type to other such as IP Networks and the PSTN, IP Networks and Wireless Networks (2G/3G) or entirely within IP Networks
Signaling Gateway simulation using SIGTRAN for handling signaling conversions from one network type to other, such as IP Networks and the PSTN, IP Networks and Wireless Networks (2G/3G) or entirely within IP Networks
Automatic Bulk Call Generation/Reception for load testing
Automate the IVR testing process - call establishment and traffic generation / detection process through scripts
Monitoring IVR System for voice and data quality
Voice Quality Testing using PESQ (ITU-T P.862.1/2), POLQA (ITU-T P.863)

Call status/graphs, link status, message statistics, capture events, error events, user-defined call statistics and graphs
APIs and CLI access through multiple command-line based clients (Java, VBScripts, TCL, and Python)