MAPS™ SIP Protocol Emulator
Featured Product from GL Communications, Inc.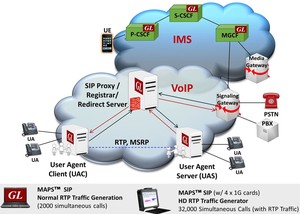 MAPS™ SIP with GL's Speech Transcription Server provides automated IVR testing by using speech to text to navigate through an IVR tree. IVR prompts are recorded by MAPS™ SIP and transcribed by the Speech Transcription Server. Transcribed text is compared to an expected text at each IVR stage to confirm the prompt.

Once the IVR prompt is confirmed, MAPS™ sends DTMF or voice-based responses to move to the next stage. The expected IVR prompts and responses are defined by the customer to ensure completely customizable tests that are suitable for all IVR systems.

MAPS™ provides the necessary base to emulate different IVR call flows and user profiles with complete automation. IVR tests start automatically once the call is established.

The Message Sequence shows each step of the IVR test, including the prompt received and the traffic action sent as shown in the below figure.
The application is available as
MAPS™ SIP Protocol Test Tool (Item # PKS120)

MAPS™ SIP Conformance Test Suite (Item # PKS121)

MAPS™ HD Call Generator (Item # PKS109)

MAPS

™

SIP Message

Session Relay Protocol

(

Item # PKS112

)