Optical Network Analysis and Emulation
Featured Product from GL Communications, Inc.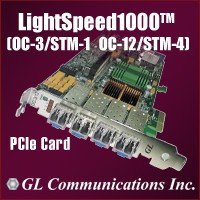 GL's LightSpeed1000™ hardware platform (PCIe Card) is capable of OC-3/12 and STM-1/4 wire-speed processing on quad optical ports for functions such as wire-speed recording and wire-speed playback of Unchannelized and Channelized ATM, PoS, and RAW Traffic.
Two ports out of the 4 ports are meant for SONET/SDH unchannelized and unframed data. The remaining two ports are meant for SONET/SDH channelized data of carrying many independent unframed/framed T1, E1, T3, and E3 streams.
The LightSpeed1000™ comes with software for overall monitoring, BERT, emulation, and protocol analysis with a price tag that compares very favorably with similar test instruments at three times the price.
Main Features
Wirespeed processing of ATM, PoS or RAW data for Tx and Rx for both ports (PCIe card only).
Software selectable OC-3 / OC-12, or STM-1 / STM-4 for Unchannelized ATM, PoS or Transparent Traffic, and Channelized T1, E1, T3, E3 traffic.
Ability to capture/playback to/from disk at full rate in both directions for all ports. Simultaneous synchronous capture is possible on all optical ports. The captured files can be played back to reproduce the traffic.
Comprehensive transmit/receive testing capabilities; transmitting and verifying data with incrementing sequence numbers with each packet/cell
Protocol Analyzer for unchannelized ATM (AAL2, AAL5), UMTS, and PPP (IP and higher layer protocols) stream, and channelized protocols such as ISDN, SS7, CAS, and more.
Easy to use and flexible Bit Error Rate Test application for ATM, PoS, and RAW
Complex and flexible hardware based filtering options: sixteen 128 bit independently filters with bit masks, for both ports with AND/OR include/exclude conditions
Hardware based precise time stamping of cells / packets with 10 nsec resolution, 1 ppm accuracy
Single mode or multi-mode fiber SFP support
High performance x4 PCIe interface with optimized DMA to transmit and receive packets to/from PC memory
Add latency to ATM or PoS traffic (adjustable from 1 – 500 ms).
Flexible DMA circular buffer architecture to read and write cells and packets at wire-speed
Multiple cards per system for super high capacity monitoring and test system.
API Toolkit to develop user specific applications
Optional onboard memory (DDR2) – up to 2 GB
Hardware independent of higher level protocols for easy adaptation of future protocols
Field upgradable firmware
Supports Windows® and Linux operating systems
Specifications:
Interfaces:
High Performance x4 PCIe Compliance with optimized DMA to perform Rx and Tx packets to/from PC memory.
4 Optical Ports
2 Unchannelized Ports (STM1/OC3 and STM4/OC12)
2 Channelized Ports (STM1/OC3)
Alarm LEDs:
LOS – LOS (Loss of Signal) is a physical layer error, which indicates loss in optical signal.
LOF - LOF (Loss of Frames) becomes active when receiving interface detects errors in the framing pattern for three milliseconds. This will be indicated using the frame alignment bytes A1 and A2. LOF is cleared when two consecutive valid A1/A2 framing patterns are received.
User – A user-defined LED can be configured by the user as per the requirements.
Bus Interface:
PCIe Specification 1.2 Compliant
Traffic
Structured (T1, E1. DS0)
Unstructured (OC3/STM1, OC12/STM4)
Transparent Generic Framing Procedure (GFP) (Raw)
Hardware Filters to filter out and allow only traffic of interest
Regulatory and Compliance
Telecom (OC3): Telcordia GR-253 (SONET)
ITU-T G.707 (SDH), G.783 (03/06)
Channelized Protocols (Structured)
High-Level Data Link Control (HDLC)
Point-to-Point Protocol (PPP), RFC 1662
Multilink PPP (MLPPP), RFC 1990
Frame Relay, RFC 1490
Multilink support over Frame Relay (FRF.12) and MLPPP
ATM IMA
GSM, TRAU, GPRS, UMTS over ATM
SS7, ISDN, CAS, SS1, SSM
V5.x, DCME, FDL (T1 Interface only)
Channelized File based High Throughput HDLC Record/Playback (HdlcHpio)
Channelized Multi-Channel HDLC Emulation and Analysis (HDLCTerr)