SIP RTP Protocol Simulation using MAPS­™
Featured Product from GL Communications, Inc.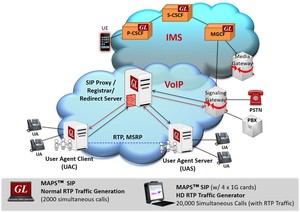 MAPS™ can be used to simulate any interface of the VoIP network. Single MAPS™ instance can act as more than one SIP entity at a time and can generate any SIP message on wire in VoIP network and hence equipment needed to test are reduced. MAPS™ SIP supports UDP, TCP, TLS transport types. Secure Real-time Transport Protocol (or SRTP) traffic supported over TLS (Transport Layer Security) Transport and TLS Library (OpenSSL) uses a Certificate and Key.
MAPS™ SIP supports transmission and detection of various RTP traffic such as, digits, voice file, single tone, dual tones, IVR, FAX*, and Video*. With regular RTP traffic, the maximum Simultaneous Calls up to 2500, and Calls per Second up to 250 is achievable. Almost all industry standard voice codec supported.
High volume of calls generation with traffic for load testing network is possible using MAPS™ RTP HD (PKS109) network appliance.
Signaling Features
Generates and processes SIP valid and invalid messages
Supports complete customization of SIP headers, call flow, and messages
Supports complete customization of scripts and parameters in the profiles
Each SIP message template facilitates customization of the protocol fields and access to the various protocol fields from the scripts
Supports IPv4 /IPv6 and transport over UDP and TCP, and TLS for secure transport
Handles Retransmissions of messages with specific interval
Scripted call generation and call reception
Supports 64-bit version to enhance signaling performance
Supports conference call, blind call transfer, hold, auto call rejection, and silence packets generation
Ability to send "reliable provisional responses" and start early media actions
Supports VoIP implementation as per ED-137B of EUROCAE standard
Ability to implement IP Spoofing for any network like Class C, Class B etc
Traffic Features
Supports transmission and detection of various RTP traffic such as, digits, voice file, single tone, dual tones, IVR, FAX, and Video in IP networks.
Supports different traffic options across simultaneous calls
Supports almost all industry standard codec types - G.711 (mu-Law and A-Law), G.722, G.729, G.726, GSM, AMR, AMR -WB, EVRC, EVS, OPUS, SMV, iLBC, SPEEX, and more. *AMR, EVRC, EVS, and OPUS variants require additional licenses.
Click here for comprehensive information on supported codecs.
RTP Voice Traffic Generation used in conjunction with SIP Signaling.
Supports 64-bit RTP core to enhance performance - handles increased call rate of up to 3000 calls with high volume traffic.
Supports both RTP G.711 Pass Through Fax Simulation (PKS200) and T.38 Fax Simulation over UDPTL (PKS211) simulation over IP.
Transmit and receive pre-recorded video traces supporting video codecs like H.264, H.263, and VP8.
Traffic impairments can be applied to messages to simulate error conditions that occur in real-time networks.
Bulk Video call generation supported with H.264, H.263, and VP8 video codecs.
User-defined statistics for RTP Voice and Video quality calls.
User-defined voice quality statistics for received RTP Traffic can be calculated and updated periodically during run-time to a csv file
Supports Secure Real-time Transport Protocol (or SRTP) traffic initialized over TLS (Transport Layer Security) or SSL (OpenSSL)
Message Session Relay Protocol (MSRP) simulation supporting instant messaging. Supported call types include IM Only, Audio and IM calls, Video and IM calls.
Applications
Fully integrated, complete test environment for SIP.
Supports end-to-end gateway testing.
Supports conformance testing UAC, UAS, Proxy, Registrars, Registrants, Redirect Servers, and other SIP entities.
Handles strict routing & loose routing, when requests are routed through proxies.
Multi-protocol call trace for TDM / VoIP
Testing NG9-1-1 emergency services and components within the ESInet.