Single and Multi-stream IP WAN Link Emulators
Featured Product from GL Communications, Inc.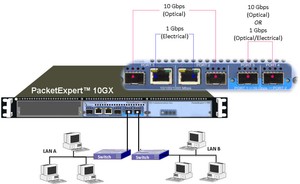 GL provides a new generation of WAN network emulation appliances that makes it simple and affordable to test applications in the lab under real-world conditions - bandwidth, latency, jitter, loss, and other WAN impairments.
Most of the GL WAN link emulators support both electrical and optical interfaces, with capacity ranging from 10 kbps to 10 Gbps. Connect using either RJ-45 copper or modular SFPs fiber for convenient installation on copper or fiber-based networks.
GL's WAN IP Link Emulators (IPNetSim™, IPLinkSim™) provide all necessary features to emulate Network Packet effects and study network behaviour.
Both IPNetSim™ and IPLinkSim™ provides several user-defined impairments such as Bandwidth Throttling, Latency, Jitter, Packet Loss, Packet Reordering, Packet Duplication, Packet Corruption, Error Insertion, etc. Bandwidth Throttling simulates slower WAN links like RS232/DSL/Modem/T1/E1/T3/E3 etc. Latency can be used to recreate the constant or varying delay caused by various factors in the network. In addition to the above listed impairment types, IPLinkSim™ can also emulate Congestion in the network by generating additional background traffic.
Both IPNetSim™ and IPLinkSim™ supports Command line Interface (CLI) to access all the functionalities remotely using TCL clients and MAPS™ CLI client/server architecture.
Main Features
IPNetSim™ operates in multi-stream mode. Emulates bidirectional multiple WAN Link (16 streams on 1 Gbps ports and 4 streams on 10 Gbps ports) per unit
IPLinkSim™ operates in a single stream mode and emulates only 1 bidirectional WAN Link per unit
mTOP™ offer rack-mountable, high density, multi-device support. Stack multiple rack units to handle large number of ports. Scalable solution for unlimited number of ports
Emulate WAN conditions separately and independently on each direction. Acts as a transparent bidirectional link or a simple Ethernet Bridge for easy integration with any test setup.
"Stream Definition" feature in IPNetSim™
classifies traffic on each port into separate streams (up to 16 streams on 1 Gbps ports and 4 streams on 10 Gbps ports); Streams can be defined with various header fields like Source/Destination MAC Address, VLAN Id, MPLS Label, Source/Destination Ipv4 Address, Source/Destination UDP ports
Supports both Raw (bit level) and Packet mode (header fields) stream configurations
Up to 120 bytes wide stream definitions covering entire packet header from MAC to UDP and also Payload
For each stream definition, offset can be set to any byte within the packet (from 0 to 2047) which gives flexibility to define any fields within any protocol headers, and even the payload
Independent per stream WAN impairments helps emulate different WAN links in a single device
Detailed per stream Tx Rx frames statistics for easy performance monitoring
Live throughput graphs per stream to visualize the effects of WAN impairments on the traffic
Check the stability or performance of the network with various real-world WAN Impairments including:

Bandwidth control option to emulate various WAN link speeds (Modem, DSL, T1/E1/T3/E3/OC3/OC12 etc) – 1 Kbps up to 10 Gbps
Latency/Delay (0 milliseconds up to 1.5 seconds per stream (for 1Gbps link)/0.5 seconds per stream (for 10 Gbps link) – single delay, uniform, random distributions) to emulate various wired, wireless, and network elements
Packet Loss (loss rate % of total packets 0–100%)
Packet Reordering (reordering rate (0-100%) with Delay Range of up to 2 seconds
Packet Duplication (percentage of total packets duplicated 0 - 100%)
Logic Error Insertion (10^-1 to 10^-9 error rate) within Ethernet packet to emulate faulty network devices or interference

Maximum Frame Size supported – 2048 bytes
Supports both Periodic (constant and predictable) and Random (unpredictable real-world conditions) impairments such as Packet Loss, Packet Reordering, Packet Duplication, and Error Insertion
Supports transmission of Ethernet Pause frame with user-defined quanta used to throttle Ethernet link overload
Command Line Interface for automated testing and remote accessibility