SonetExpert™ Channelized (SEC) Analyzer
Featured Product from GL Communications, Inc.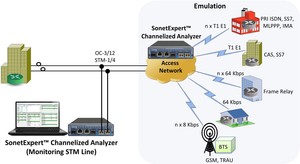 A majority of the backbone transport for voice, video and data applications continues to be SONET and SDH optical transmission networks. SONET and SDH transmission network also continue to be used for conventional channelized traffic – carrying many TDM T1, E1, T3, and E3 pipes.
GL's SonetExpert™ hardware platform (USB Unit) is capable of OC-3/STM-1 and OC-12/STM-4 wirespeed processing on two optical ports (Port 3 and Port 4) for channelized data carrying many independent unframed/framed T1 and E1 streams. USB 3.0 interface is used to connect with a Notebook PC for portability. The hardware is firmware FPGA based making it easy to upgrade in the field for application versatility. A unique feature of the unit is the capability to capture, transmit and process at wirespeed to/from applications and hard disk on all interfaces.
In an OC-3/STM-1, all 84 T1s or all 63 E1s can be identified and processed in transmit and receive modes. In an OC-12/STM-4, all 336 T1s or all 252 E1s can be identified and processed in transmit and receive modes.
SonetExpert™ Channelized Analyzer comprises of hardware and software receiving and transmitting data using SONET and SDH networks and communicating with the GL Soft T1/E1 Analyzer application. Provides an essentially the same feature rich functionality as GL hardware based T1/E1 Analyzers with the difference that T1/E1 frames are multiplexed into SONET/SDH frames and transmitted over optical lines.