Test Ground-Ground per EUROCAE ED137
Featured Product from GL Communications, Inc.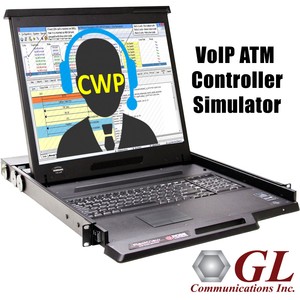 MAPS™ ED137 Telephone simulates the functions of Controller Working Position (CWP) in Ground-to-Ground telephone calls. The product supports transmission and detection of various RTP audio traffic such as real-time audio, voice file, digits, single tone and dual tones. The MAPS™ profile editor feature allows users to easily configure multiple CWPs profiles, allowing to simulate multiple CWP entities.
GL tools for signalling emulation and voice quality testing offer an end-to-end test solution for testing connections from the radio interfaces to the Controller Working Position (CWP) and recording voice communications in the ATM network. GL's Air Traffic Management Solution also includes MAPS™ ED-137 Recorder Emulators and MAPS™ ED-137 Radio Emulators.
Signalling Simulation
Emulates ED-137/2B Telephone interface at CWP endpoints.
Enhanced to support multiple CWP endpoints simulation
Portable, easy to configure and use during in-the-field installation, system configuration/ test and commissioning
Supports multiple Profiles (Users/End points) from single node.
Supports hundreds of simultaneous calls and load generation can be automated completely along with traffic.
Supported Call Types
Instantaneous Access
Priority Direct/Indirect Access
Routine Tactical Direct/Indirect Access
Routine Strategic Direct/Indirect Access
Routine General Purpose Direct/Indirect Access
Position Monitoring (Combined A/G and G/G, A/G only, and G/G only) Call
Traffic
Supports various traffic actions on the call such as Playback to Speaker, Send & Record audio file, Generate and detect inband digits, single tone and dual tone.
Supports ED137 defined codecs - G.711 (mu-Law and A-Law) and G.729
Supports User-defined and automated traffic actions on the call.
Applies impairments to the traffic such as Packet Loss, Latency, Duplicate and Out of sequence.
Provides aggregated voice quality statistics such as MOS/R-Factor, Packet Loss, Duplicate and out of sequence packets.
Applications
Fully integrated, complete test environment for Air Traffic Management.
Supports testing CWP, VCS, GRS (or RMG), and VRS.