Testing for Unchannelized and Channelized Traffic
Featured Product from GL Communications, Inc.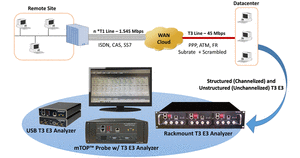 GL's T3 E3 Analyzer is capable of processing signaling, voice, and data in full T3 (DS3) or E3 data streams, dropping and inserting T1 (DS1) or E1, and performs analysis of HDLC, ATM, Frame Relay, and PPP Protocols. It includes various signal testing capabilities for Unchannelized (Unstructured) and Channelized (Structured) T3 E3 Traffic.

A T3 line is an ultra-high-speed signal capable of transmitting data at rates up to 44.736 Mbps. An E3 signal is situated at the third level within the Plesiochronous Digital Hierarchy (PDH) and has a bit rate of 34.368 Mbps. The channelized option in the T3 E3 Analyzer uses "software-only" approach to support direct access to all 2x28 T1s or 2x21 E1s or 2x16 E1s on a T3/E3 line per board for emulation, analysis and monitoring– all within a single PC, including differing T1/E1 framing formats, physical layer alarms, and payloads.