Voice Recorder Emulator - VoIP Air Traffic Control
Featured Product from GL Communications, Inc.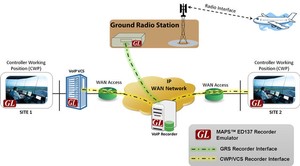 (VoIP) for more reliable, scalable and secure communications. The European Organization for Civil Aviation Equipment (EUROCAE) has defined the ED-137 standard to outline VoIP communication between air traffic controllers and pilots. GL Communications has led the way in simulating and testing ED-137 ATM components such as Controller Working Positions (CWP), Ground Radio Stations (GRS), Voice Communications Systems (VCS) and more. GL's ATM test suite includes the ability to simulate Air to Ground (AG) calls and Ground to Ground (GG) calls with associated signaling such as Push to Talk (PTT) and Squelch. Furthermore, GL's test tools can perform sophisticated one-way delay measurements and voice quality testing.

Air traffic control centers are required to provide continuous GG and AG voice communication recordings with synchronized flight data for establishing air traffic incident chronology, replay, safety improvement, audits, statistics, and for training purposes.