Wireless Network Simulation (5G, 4G, 3G, 2G)
Featured Product from GL Communications, Inc.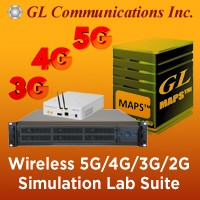 GL's End-to-End Wireless Network Simulation Test Suite provides you an advanced full-fledged "Live Network" at your company premises in any customized package to suit test requirements.
The entire test suite is built on common MAPS™ Platform framework architecture. The test suite can be used to simulate all or specific elements within wireless networks infrastructure using simple ready-to-use test bed setups.
The test suite provides reliable integrated solutions to vendors and service providers for simulation, monitoring, troubleshooting the any wireless network, including, 4G, 3G, 2G and upcoming 5G. All functionalities conform to industry standards.
Test, monitor, and troubleshoot all the core network elements and traffic types within the Wireless infrastructure for deployment-readiness, functionalities, inter-operability, performance and latest mobile features. Test end-user applications, devices, and services on a simulated wireless infrastructure environment prior to deployment on a real-time network.
Why MAPS™ Wireless Network Simulation Test Suite?
Simple-to-setup and execute

All operations and individual nodes in a network can be controlled remotely from a Remote MAPS™ system
Simple test bed configurations to establish communication between different network elements, and the mobile phones
Ability to add unlimited number of user profiles, and scripts
The ready-to-use scripts makes testing procedure simpler which are used to quickly setup calls generating and verifying data traffic.

Performance

Higher volume Voice and SMS calls (hundreds of calls/sec and 64,000 simultaneous calls/platform) with MAPS™ RTP HD appliance.
Easily achieve massive simulation of UEs (up to 500000) with high density (up to 4 Gbps or 40 Gbps) mobile traffic (stateful HTTP/PCAP) generation per MAPS™ PacketLoad appliance.

Scalable

Simply scale up with a greater number of systems to achieve higher performances

Programmable and Scriptable

MAPS™ based simulators provide a unique "programmable, scriptable" framework independent of any protocol or network
Supports a variety of protocols under common architecture framework
Fine control any parameter in the emulated network environment. The scripts are events-driven and provide fine control over call behaviour
Unlimited ability to edit signalling messages, protocol fields, and call flows
Precisely time communication between different core network entities
Use Cases
Test and verify web services, and mobile applications over emulated wireless networks
Pin-point and troubleshoot network issues with comprehensive logging and analysis tools
Monitor End-to-End Connectivity with automated call flows and data connectivity over multiple interfaces
Test Inter-Operability issues and handovers with different network lab setups
Perform Feature Tests, Conformance Tests, and Functional Tests on individual nodes - supports both single and Multi-interface testing
Performance Testing
Migration Testing
Voice and Data Quality measurements with comprehensive voice and data quality tools
Advanced Voice Feature Testing