Continuous duty rated,Economical,No dynamic seals
Featured Product from GRI Pumps (A Gorman-Rupp Company)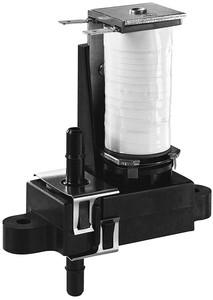 Piston Diaphragm Pumps
Piston diaphragm pumps are positive displacement pumps designed to economically transfer small volumes of fluid at low discharge pressures. The lightweight, compact pumps are self-priming, corrosion resistant and can handle viscous fluids. These features make the pumps ideal for high volume copy machines, scientific and laboratory instruments and other chemical dispensing applications.
Operation:
Standard models are constructed with 12 or 24 volt DC solenoids. A switch is required to supply pulsed voltage to the pump. The energized solenoid pulls the piston and diaphragm up, drawing fluid into the pump. A spring forces the piston back to its original position when the solenoid is de-energized, forcing fluid out of the pump, and the cycle is repeated. Valves are utilized to prevent back-flow into the pump and to maintain prime.
Specifications:
Flow Rate — Range to 250 microliters per stroke
Max Discharge Pressure — Range to 2.6 psi (6')
Self-Priming — To 3 feet
Max Fluid Viscosity — To 300 centistokes
Max Fluid Temperature — To 200°F (93°C)
Typical Duty Cycle — 1 cycle/second (1⁄2 sec. on - 1⁄2 sec. off). Higher frequency operation achievable with external driver.
Metering Accuracy — ±2% stroke-to-stroke (for a stationary setup)
I.D. Tubing Size — 3⁄16"
Approximate Weight — .265 lb.
Note: Positive suction head above 6" requires tight valves; consult factory for availability.
Features:
Economical
Self-priming
No dynamic seals
No backflow
Continuous duty rated
Corrosion resistant
Dry run capability
GRI Certified to ISO 14001:2015 Environmental Standard
Watch>>>About GRI Pumps (A Gorman-Rupp Company)
Since 1953: Not Just Pumps, Pumping Solutions
There are many variables that must be considered when specifying a magnetic drive pump for an OEM application. At first glance you may not find a pump that meets your exact requirements. GRI recommends that you contact our Technical Sales Staff to discuss your project so that the right pump can be specified. Many times we will customize an existing pump to meet your needs or design a new pump according to your system's exact specifications.
The Importance of Specifying a Pump Early in the OEM Design Process
Check out GRI's "Emphasis On Pumps" article in the October 2013 issue of MDT magazine. Knowing the specific fluid pumping requirements of an application upfront in the development process is important. Unfortunately many device and system designers neglect to consider the fluid pumping requirements until late in the design process.
Many times a designer will have to perform costly alterations to systems or devices to make their design compatible with a pump chosen late in the design process. Being that many times a pump is the "heart" of a system, it makes sense to begin the specification process early rather than later. Careful planning saves not only time and money, but also headaches.
Fluid pumps for the Original Equipment Market
Serving the Original Equipment Manufacturer since 1953, Gorman-Rupp Industries' reputation and success have been built on innovative fluid pump designs, customer service, and providing products to meet the exact specifications of our customers.
GRI's fluid pumping knowledge and expertise comes from working with domestic and international partners in a variety of markets and OEM applications for over 60 years. Whether it is replacing an existing pump or working with you on a new OEM fluid pumping application, GRI's proven concepts and engineered designs will provide a unique solution to your fluid pumping dilemma.
Specialties
Custom Design and Manufacturing of fluid pumps for the OEM market, Bellows Metering Pumps, Magnetic Drive Pumps, Centrifugal Pumps, Oscillating Pumps, Gear Pumps, OEM Pumps