INTG3 Brushless DC Fluid Circulation Pumps
Featured Product from GRI Pumps (A Gorman-Rupp Company)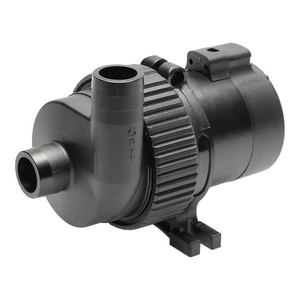 Designed for the circulation and transfer of fluids, GRI's Integrity Series Pumps offer a flexible and robust solution to OEM applications.
Constructed with a proprietary blend of PPS, the INTG3 is compatible with a wide variety of fluids. By manufacturing the motors and the majority of the pump's components in-house,
GRI has the flexibility to precisely configure an Integrity Series pump to meet an OEM's specific flow and pressure requirements.
Equipped with an integrated brushless DC variable speed motor, with voltage ranges from 12 volts to 24, these sealless, motor integrated centrifugal pumps incorporate the components into a compact, lightweight design. Fewer parts promote long life, quiet operation, and low power consumption.
The INTG3, with its small footprint and weighing in at less than a pound, offers a powerful performance with a flow range from approximately 2 gallons per minute (or 7.5 liters) up to a maximum of just over 8 gallons per minute (or 30 liters).
Keep in mind that you will always get the most efficient performance and potentially longer life by running in the middle of the performance curve.
Available OEM options offer a variety of suction and discharge port configurations.
The INTG3 is engineered with a variety of available control options to best fit an OEMs application. The supply voltage can directly control the pump performance. Performance can also be controlled by an available analog 0-5 volt DC input as well as a PWM digital signal input. Additionally, a tachometer option is available to measure pump speed.
GRI specializes in OEM customization. For further options, contact GRI.
GRI collaborates with OEM engineers who are unable to fulfill their unique pump specifications with an off-the-shelf solution and require a custom-engineered pump specific to their application.
View GRI's INTG3 product video

Play INTG3 Brushless DC Fluid Circulation Pumps Video