INTG8 for the circulation and transfer of fluids
Featured Product from GRI Pumps (A Gorman-Rupp Company)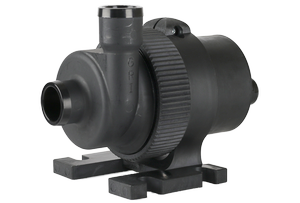 INTG 8
Integrated Brushless DC Magnetic Drive Pumps
Designed for the circulation and transfer of fluids, GRI's Integrity Series Pumps offer a flexible and robust solution to OEM applications.
Constructed with a proprietary blend of PPS, the INTG8 is compatible with a wide variety of fluids. By manufacturing the motors and the majority of the pump's components in-house, GRI has the flexibility to precisely configure an Integrity Series pump to meet an OEM's specific flow and pressure requirements.
Equipped with an integrated brushless DC variable speed motor, with voltage ranges from 12 volts to 48, these seal-less, motor integrated centrifugal pumps incorporate the components into a compact, lightweight design. Fewer parts promote long life, quiet operation, and low power consumption.
The Integrity Series 8, with its small footprint and weighing in at approximately 3.5 pounds, offers a powerful performance with a flow range from 2 gallons per minute (or 7.50 liters) up to approximately 37 gallons per minute (or 140 liters).
One will realize the advantages of the Integrity Series 8 when OEM performance requirements are 10 gallons per minute and above. Keep in mind that you will always get the most efficient performance and potentially longer pump life by running in the middle of the performance curve.
Available OEM options include a variety of suction and discharge port configurations and control options to best fit an OEMs application. The supply voltage can directly control the pump performance. Performance can also be controlled by an available analog 0-5 volt DC input as well as a PWM digital signal input. Additionally, a tachometer option is available to measure pump speed. For advanced and high-tech applications requiring customized control, CAN-bus is also available.
GRI collaborates with OEM engineers who are unable to fulfill their unique pump specifications with an off-the-shelf solution and require a custom-engineered pump specific to their application.
Please click on "Pump Overview & Data Sheet" for a printable PDF which includes performance curve, material specifications, and pump dimensions.
Click here to see additional Integrity Series Pumps.
The Importance of Specifying a Pump Early in the OEM Design Cycle
Knowing the specific fluid pumping requirements of an OEM application upfront in the development and design cycle is important. Unfortunately, many device and system designers neglect to consider their fluid pumping requirements until late in the design cycle.
GRI Certified to ISO 14001:2015 Environmental Standard
Watch>>>GRI Pumps Company Video

Since 1953: Not Just Pumps, Pumping Solutions
There are many variables that must be considered when specifying a magnetic drive pump for an OEM application. At first glance you may not find a pump that meets your exact requirements. GRI recommends that you contact our Technical Sales Staff to discuss your project so that the right pump can be specified. Many times we will customize an existing pump to meet your needs or design a new pump according to your system's exact specifications.
The Importance of Specifying a Pump Early in the OEM Design Process
Check out GRI's "Emphasis On Pumps" article in the October 2013 issue of MDT magazine. Knowing the specific fluid pumping requirements of an application upfront in the development process is important. Unfortunately many device and system designers neglect to consider the fluid pumping requirements until late in the design process.
Many times a designer will have to perform costly alterations to systems or devices to make their design compatible with a pump chosen late in the design process. Being that many times a pump is the "heart" of a system, it makes sense to begin the specification process early rather than later. Careful planning saves not only time and money, but also headaches.
Fluid pumps for the Original Equipment Market
Serving the Original Equipment Manufacturer since 1953, Gorman-Rupp Industries' reputation and success have been built on innovative fluid pump designs, customer service, and providing products to meet the exact specifications of our customers.
GRI's fluid pumping knowledge and expertise comes from working with domestic and international partners in a variety of markets and OEM applications for over 60 years. Whether it is replacing an existing pump or working with you on a new OEM fluid pumping application, GRI's proven concepts and engineered designs will provide a unique solution to your fluid pumping dilemma.
Specialties
Custom Design and Manufacturing of fluid pumps for the OEM market, Bellows Metering Pumps, Magnetic Drive Pumps, Centrifugal Pumps, Oscillating Pumps, Gear Pumps, OEM Pumps