Magnetic Drive Circulation Pumps
Featured Product from GRI Pumps (A Gorman-Rupp Company)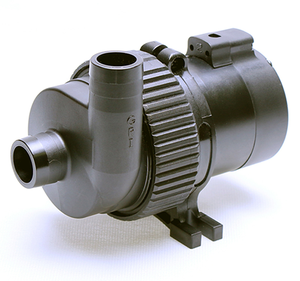 Integrated Brushless DC Magnetic Drive Pumps
Designed for the circulation and transfer of fluids, GRI's Integrity Series Magnetic Drive Circulation Pumps offer a flexible and robust pumping solution to OEM fluid circulation applications. By manufacturing the motors and the majority of the pump's components in-house, GRI has the flexibility to precisely configure an Integrity Series pump to meet an OEM's specific flow and pressure requirements.

Equipped with an integrated 9 to 24 volt brushless DC motor, the magnetically driven pumps incorporate the components into a compact, lightweight design, eliminating motor bearings and leaving the impeller assembly as the only moving part. Fewer parts promote long life, quiet operation, and low power consumption.
Specifications
Motors: 24VDC, 9-24VDC, Integrated Brushless DC, Variable Speed
Max. System Pressure: 75 psi
Max. Flow: 7.79 GPM, 29.47 LPM
Max. Head: 54.38 FT, 23.58 PSI
Max. Fluid Temp.: 203°F (95°C)
Approximate Weight: .8 lbs (362.8 grams)
Options
9-24 volt power supply
Speed Control: Third wire 0-5 volt input signal
Flow and pressure adjustment
Submersible
Multiple inlet/outlet configurations
Extreme heat and cold temperature options (Contact GRI)
Multiple OEM options and motor configurations
Agency Approvals / Compliances
UL778: Motor-operated Water Pumps

NSF 61: Potable Water
NSF 372: Lead Content
RoHS 2
REACH
Features
Variable Speed
Wide range of flow and pressure configurations
Brushless DC Integrated Motor
Only one moving part: No motor bearings
Magnetically coupled/driven
Compact, lightweight design
Low power consumption
Long Life
Quiet Operation
Adjustable base
Wetted Materials
Pump Body: PPS (Ryton®)
Housing: PPS (Ryton®)
Impeller: PPS (Ryton®)
Rotor Shell: PPS (Ryton®)
Static O-Rings: FKM (Viton®), EPDM
Pump Shaft: Ceramic
Bearing Plate: PPS (Ryton®)
Markets / Applications
Fluid circulation / recirculation devices  
Circulating Baths
Laser Cooling
Chillers
Hydronic Heating Systems
Marine
Recreational Vehicles and Public Transit
Fuel Cells
Thermal Therapy
Printing
Watch>>>About GRI Pumps (A Gorman-Rupp Company)
Since 1953: Not Just Pumps, Pumping Solutions
There are many variables that must be considered when specifying a magnetic drive pump for an OEM application. At first glance you may not find a pump that meets your exact requirements. GRI recommends that you contact our Technical Sales Staff to discuss your project so that the right pump can be specified. Many times we will customize an existing pump to meet your needs or design a new pump according to your system's exact specifications.
The Importance of Specifying a Pump Early in the OEM Design Process
Check out GRI's "Emphasis On Pumps" article in the October 2013 issue of MDT magazine. Knowing the specific fluid pumping requirements of an application upfront in the development process is important. Unfortunately many device and system designers neglect to consider the fluid pumping requirements until late in the design process.
Many times a designer will have to perform costly alterations to systems or devices to make their design compatible with a pump chosen late in the design process. Being that many times a pump is the "heart" of a system, it makes sense to begin the specification process early rather than later. Careful planning saves not only time and money, but also headaches.
Fluid pumps for the Original Equipment Market
Serving the Original Equipment Manufacturer since 1953, Gorman-Rupp Industries' reputation and success have been built on innovative fluid pump designs, customer service, and providing products to meet the exact specifications of our customers.
GRI's fluid pumping knowledge and expertise comes from working with domestic and international partners in a variety of markets and OEM applications for over 60 years. Whether it is replacing an existing pump or working with you on a new OEM fluid pumping application, GRI's proven concepts and engineered designs will provide a unique solution to your fluid pumping dilemma.
Specialties
Custom Design and Manufacturing of fluid pumps for the OEM market, Bellows Metering Pumps, Magnetic Drive Pumps, Centrifugal Pumps, Oscillating Pumps, Gear Pumps, OEM Pumps