Pumps for Data Centers and Electronics Cooling
Featured Product from GRI Pumps (A Gorman-Rupp Company)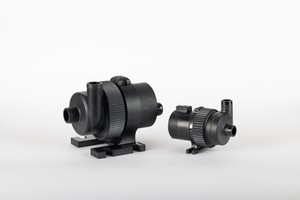 Server & Electronics Cooling
The increasing popularity of Cloud computing and storage, for both home and business, has created a growing demand for highly efficient and extremely fast data centers. The consequence of higher computer processing speeds is the generation of more heat; not a good thing for electronics. Previously air-cooled, many data centers are now switching to liquid cooling technology as a more effective and efficient method of dissipating computer generated heat in critical high-tech equipment.
Cooling Distribution Units (CDU), Direct Contact Liquid Cooling (DCLC) and Immersion Cooling technology all use heat exchangers as a means to remove heat away from the electronics.
Designed for the circulation and transfer of fluids, GRI's Integrity Series Pumps offer a flexible, safe and robust solution to moving fluid in critical high-tech OEM applications.
Equipped with an integrated brushless DC variable speed motor, with ranges of 12 to 48 volts, these seal-less, motor integrated centrifugal pumps incorporate the components into a compact, lightweight design. Fewer parts promote long life, quiet operation, and low power consumption.
Unlike its competition, GRI manufactures the pump's brushless DC motors, along with the majority of the components, in-house. Our vertical integration provides the ability to customize a pump's motor to an OEM's specific flow and pressure performance requirements.
Available OEM options include a variety of suction and discharge port configurations and control options to best fit an OEMs application. The supply voltage can directly control the pump performance. Performance can also be controlled by an available analog 0-5 volt DC input as well as a PWM digital signal input. Additionally, a tachometer option is available to measure pump speed. For advanced and high-tech applications requiring customized control, CAN-Bus is also available.
Integrity Series Pumps are designed and manufactured specifically for OEM customization. If you don't immediately find a pump that meets your exact requirements, our dedicated Pump Team is ready to work with you in developing a solution specific to your application.
GRI collaborates with OEM engineers who are unable to fulfill their unique pump specifications with an off-the-shelf solution and require a custom-engineered pump specific to their application.
View the Integrity Series Circulation Pumps at GRIpumps.com
Watch product videos at GRIpumps.com
Pump Series

Maximum Flow

GPM, (LPM)

Maximum Head

FT, (PSI)

Maximum

System Pressure

Motor Specs/

Voltages

INTG1

2.50, (9.50)

12.8, (5.5)

50 PSI

12-36 VDC

INTG3

8.85, (33.5)

54.0, (23.4)

75 PSI

12-24 VDC

INTG5

10.0, (37.8)

75.0, (32.0)

75 PSI

12-48 VDC

INTG7

22.0, (83.3)

70.0, (30.3)

75 PSI

12-48 VDC

INTG8

37.0, (140.0)

61.0, (26.0)

75 PSI

12-48 VDC