2d Part Marking
Product Announcement from GT Schmidt Marking Systems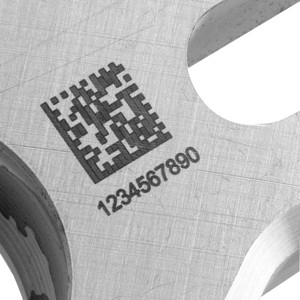 Schmidt manufactures industrial marking machines and metal engraving equipment for direct part marking and product traceability.
With our knowledge, expertise, and in-house engineering capabilities, we can provide an integrated system of 2d part marking, reading, and verifying based on your specific requirements and in compliance with AIM DPM quality and ISO certification guidelines.
2d Part marking (unique identification marking) has become increasingly popular not only to reduce cost and improve quality, but also to meet many industry standards and government regulations.
2d Part marking for part traceability is typically achieved in one of two ways. It can be in a human readable form, such as characters (text) and numbers, or it can be in a non human readable form such as 1d or 2d barcodes.
Human readable data can be tracked using vision systems for either OCR (optical character recognition) or OCV (optical character verification). A barcode is an optical machine readable representation of data. Barcodes are often preferred over human readable tracking because much more information can be stored in less space. 1d and 2d barcodes can be read by optical scanners called barcode readers.
Schmidt has partnered with Cognex Corporation to be able to supply you with a complete marking, reading and verifying system. We can offer OCR and OCV vision systems, as well as, readers and verifiers to meet your UID marking and part traceability needs.
Schmidt manufacturers the following marking systems that can be equipped with Cognex vision systems, readers or verifiers:
To discuss your part marking traceability needs, please contact us for more information.
---