Dot Peen Marking
Product Announcement from GT Schmidt Marking Systems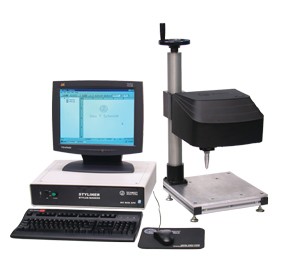 Column Mounted and Bench Top Pin Marking Systems
Schmidt offers two durable and extremely precise stand alone column mounted and bench top dot peen (stylus) pin marking systems.
The Styliner® Mark3 and Mark4 dot peen stylus markers are specifically designed to accommodate a variety of materials and part sizes, and are capable of marking flat, curved, convex, or concave parts, as well as, irregular and delicate surfaces.
The Styliner® Mark3 dot peen marker has a wide range of capabilities and software that is extremely easy to program. The Styliner® marking head is extremely precise, durable and virtually maintenance free. All this makes marking your parts simpler, and saves production time and expense. The Styliner® Mark3 dot peen marker can apply permanent date codes, sequential serial numbers, manufacturing place of origin identifications marks on your parts, sub-assemblies and finished products in accordance with ISO certification guidelines.
Mark3 Dot Peen Styliner® Pin Marking System Features:
3" x 2" or 4" x 4" standard marking fields
Aluminum column with 8" of height adjustment
Straight, angular, radial, and circular marking capabilities, as well as, logos and graphics
Carbide Stylus can mark up to 64 Rc, with diamond tip stylus available for harder parts
Automatic serialization and data coding
Light weight aluminum base with locating holes for part fixturing
Marks up to 10 characters per second
Variety of character height available, can vary depending on the marking field limit
Pneumatic Service: 85 psi, 2-3 SCFM Ave
The Mark3 dot peen marking machine is high quality, programmable marking equipment at an affordable price. This is a fully featured machine, with a 3" x 2" marking field. The Mark3 dot peen marker can accommodate parts up to 8" in height when used as a stand alone, column mounted system. The lightweight head is also very useful when used as a portable unit, or can be integrated to your production line.
Follow this link for our Mark3 dot peen marker brochure.
Schmidt manufactures the Styliner® series of dot peen pin marking systems which include:

Play Dot Peen Marking Video
---