Impact Marking Presses
Product Announcement from GT Schmidt Marking Systems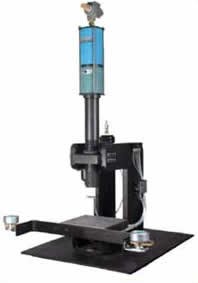 The Air-Over-Oil Press Marker is quiet, safe, and great for either bench mounted or movable applications.
Schmidt's air/oil pneumatic impact presses are suitable for a multitude of applications. You can use them individually or in series, and install them in virtually any location.
The Air-Over-Oil presses from Schmidt bring a new and improved concept in press marking technology to the marketplace. These presses offer a smooth and quiet operation and at the same time help to eliminate the bounce effect on your parts.
Air pressure is used to rapidly move the ram, where hydraulic pressure slowly squeezes the impression into your part. Available in two capacities with 2.5 inches of adjustment, these presses can help satisfy your marking requirements.
Model A/O (Air-Over-Oil) Press Marking Machine Features:
Smooth and Quiet operation
Produces Clear, and Legible Marks
No Electrical Requirements
All Controls Pneumatic
Anti-Tie-Down dual palm button controls
Adjustable Height
Pneumatically operated air-over-oil operations
Base plate with (4) drilled and tapped holes for mounting fixture
Part Feeding & Fixturing
Our impact and squeeze action presses can be equipped with automatic feeding systems that include bowl feeders, stackers and rotary dials. Fixturing is available on all Schmidt press marking systems.
Follow this link to view our Press Marking Catalog.
Optional Tooling for Press Marking:
Press marking on plates or flat areas of parts can usually be done with flat stamping dies.
Press marking of cylindrical or contoured parts can be achieved with convex or concave dies.
Round or rectangular dies can be used as inserts or can be fitted directly into the ram of the press. These dies can be custom engraved with any characters, patterns, or designs, and they are available in any size.
Shank dies engraved with a permanent design can be made in any shank size and length. For changeable marks, shank-style typeholders are available in stock or custom configurations.

Play Impact Marking Presses Video
---