Marking System for Automators
Product Announcement from GT Schmidt Marking Systems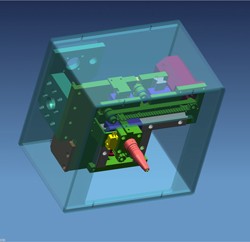 Schmidt Slimliner Marking Systems for use in Integration and Automation.
Schmidt pin marking and scribe marking systems are available in a wide range of tool envelope sizes and with standard marking field sizes ranging from 1" x 2.5" to 8" x 8" to integrate with virtually any manufacturing operation, part assembly, test cell or robotic application. Schmidt Marking Systems has developed and maintains a complete line of standard marking heads and controls for the automation machine and automation customer. Our primary focus is to provide those designers and builders with the correct marking system for their particular application and manufacturing environment.
Styliner "S" (separate marking heads) can be positioned vertically, horizontally, or inverted to mark any compound angle as required by the application. For harsh environments, a shutter shield assembly moves in conjunction with our dot peen (stylus) marking pin to guard against dirt and debris contaminating the marking head's internal components. A wide array of self contained or PC based controllers are available for simple input or complete networking applications. Systems capabilities include electrical, mechanical, and software customization to satisfy any automation marking requirements.
Standard Integration Systems include;
Separate marking head with a 5/8" x 3" marking field, steel protective cover with tooling mounting locations for integration into manufacturing and automotive assembly lines, back-up tooling systems, balancer assisted hand held tooling systems, etc.
Separate marking head with 5" x 3" marking field with a 1.5" powered "z" axis, steel protective cover and mounting holes for integrating the marker into clamp tooling, an articulating arm, robotic arm, etc on automotive assembly or manufacturing lines.
The Slimliner dot peen marking machines have been designed to incorporate a small tool envelope with an available "z" axis movement and practical marking field sizes.
Slimliners are widely used in automotive applications where space is limited and identical marks must be applied to surfaces of differing heights.
An example application would be an automotive powertrain where two identical VIN derivatives must be applied on both the motor block and the transmission bell housing, but the marking surfaces are at different heights and attack angles.
Follow this link to download a Separate Marking Heads Brochure
---