Nameplate engraving machine
Product Announcement from GT Schmidt Marking Systems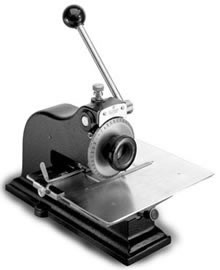 Model 4 and Model 6 Manual Nameplate Presses
Schmidt manufactures two manual marking machine presses, the Model 4 and Model 6, for stamping into name plates, metal tags, dog tags and ID tags.
These machines are available to purchase at a discount on our website now!
Schmidt's Model 4 and Model 6 name plate detail presses mark evenly spaced letters and numbers that are accurately aligned and uniformly deep.
Easy-To-Use! It's so simple, anyone can master the four-step operation in minutes.
Manually operated, portable bench top design, with two sizes available
Marks clear, easy-to-read information with one short lever stroke
Stamp on steel, brass, stainless steel, aluminum, and plastic.
Table advances automatically for the next character when the handle is returned
Each marking dial has 40 characters
Sharp or flat face characters available
All dial assemblies are interchangeable
Click here to download a pdf of the machine brochure!
These nameplate detail presses are available to purchase online, as well as, the interchangeable character dials and replacement parts.
Schmidt manufactures a variety of marking machines and engraving equipment to mark your nameplates and metal tags with date codes, serial numbers, barcodes, 2D data matrix, logos, graphics, or any sequence of characters and numbers.
Our nameplate marking machines range from fully automated with nameplate shuttle feed systems, to semi-automated with fixed and adjustable nameplate clamps, or lever operated manual marking detail presses.
---