Pin Marking
Product Announcement from GT Schmidt Marking Systems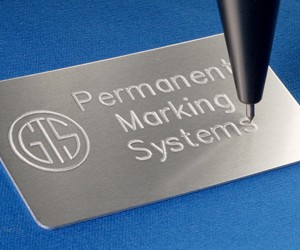 Schmidt offers two durable and extremely precise stand alone column mounted and benchtop dot peen (stylus) pin marking systems.
The Styliner® Mark3 and Mark4 dot peen stylus markers are specifically designed to accommodate a variety of materials and part sizes, and are capable of marking flat, curved, convex, or concave parts, as well as, irregular and delicate surfaces.
The Mark3 and Mark4 dot peen pin marking systems are fully programmable with a wide range of capabilities. The Styliner® Mark3 and Mark4 dot peen pin markers can function as semi-automatic, where each part is hand placed in the marking field or fixture before it is marked, or they can be fully automated with a part feeding system allowing the operator to walk away.
Schmidt's Styliner® series of dot peen marking systems can:
mark 2d data matrix, automatic date codes, sequential serial numbers, logos, or any identification mark on your parts, sub-assemblies and finished products in accordance with ISO certification guidelines.
With our knowledge, expertise, and in-house engineering capabilities, we can provide an integrated system of 2d part marking, reading, and verifying based on your specific requirements and in compliance with AIM DPM quality and ISO certification guidelines.
The Styliner® series is also available in portable hand held and separate marking heads for integration. All of our dot peen markers can be increased for high speed, high productivity part marking, or reduced for a fine quality continuous line appearance, suitable for finished parts.
Schmidt Styliner Mark4 permanent marking system
The Mark4 dot matrix marker includes all the features of the Mark3 and more. 4" x 4" and 8" x 8" marking fields are standard, and die space is increased to 12" for marking taller parts. The robust base and column are made of steel, and the column includes a dial indicator for accurate height adjustment between
various parts. Automatic height adjustment is available with the powered z-axis option. The Mark4 dot matrix marker is available with an 8" x 8" marking field. The 8" x 8" field size is particularly useful for large nameplates and parts, or for nesting several smaller parts together for batch marking.

The Styliner Mark4 is a complete, ready to use dot matrix marking system. No additional pc or software is required. This stand alone column mounted system is suitable for use on a workbench, tabletop or shop cart. The 4x4-S and 8x8-S pin marker marking heads are ideal for integration into your automated production line, while the portable "P" pin marker heads allow marking large or hard to move parts. TheStyliner Mark4 cuts production time and expense with programming flexibility and easy operation. Advanced precision components enable you to create remarkably clear, precise marks. A wide range of standard and custom configurations makes it easy to to bring reliable performance to your unique production situation, and to conform to your ISO tracreability requirements.
2D matrix marking is easily accomplished with
Styliner software

Mar4 Pin Marking System Features
4" x 4" and 8" x 8" standard marking fields
steel base and column with a dial height indicator and work light
12" die space for large parts
wide selection of designs available
marks on metal, plastic and ceramics
2d dot matrix mark flat, curved, convex, concave, irregular and delicate surfaces
no special tooling or fixtures needed to mark most part geometries
full feature, easy to use software
programmable powered "z" axis available
30 month standard warranty
technical support available 24/7
Follow this link for an Adobe Reader document version of the Mark4 pin marker brochure.
---