Pneumatic Roll Marking Machines
Product Announcement from GT Schmidt Marking Systems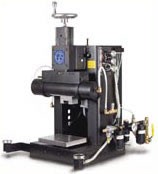 Pneumatic Roll Marking Machines Schmidt offers two pneumatic roll marking machines ideal for marking flat or round parts with minimal tonnage requirements.
The Series 9 roll marker is a benchtop design, while the Series 12 roll marker is a floor standing model. They both offer a range of marking pressures, die spaces, and table sizes. Fixturing is available on all Schmidt roll markers.
Schmidt's pneumatic roll markers offer a maximum of 3 tons of marking force and are great for marking mild steel, tool steel and soft aluminum.
Schmidt's pneumatic roll markers are ideal for marking flat and round parts. With a maximum of 3 tons of marking force, Schmidt pneumatic roll markers are capable of marking up to four lines of 1/8" characters into mild steel parts.
Pneumatic roll markers offer the benefits of a clean operation, flexibility, and reliable performance. A simplified pneumatic driver system quickly connects to any air source. High quality seals and connectors assure many years of maintenance-free service. Tooling changes are quick and easy, enabling a single, free-standing machine to serve in a variety of production roles. Two pneumatic roll markers are available.
The Series 9 Roll Marking Machine is an economical, light duty, bench-top unit that provides up to 2,800 pounds of pressure for light marking or for marking small parts. The Series 9 offers clean pneumatic operation and outstanding performance with lots of operating flexibility. Its compact design lets you locate the Series 9 close to the operator, where marking can be achieved as part of another operation like inspection or assembly. The standard Series 9 is designed for manual loading and unloading of parts. With a flip of a switch, the Series 9 can also be used as a press marker.
Series 12 Roll Marking Machine combines 3 tons of marking pressure with the advantage of pneumatic power in a compact floor mounted machine. This general purpose marker has the capability of roll marking your round or flat parts, as well as acting as a press marker and can apply up to 4 lines of 1/8" characters, one character per line at the same time, in a single roll marking cycle. When operated in the press mode 4 - 1/8" characters can be applied. The pneumatic operation of the Series 12 means quiet, smooth, and trouble free performance. No electrical connections are required.
Want to discuss your pneumatic roll marking application with us? Contact Us here.
Hydraulic Roll Marking Machines
For part marking applications that require additional power and force.
Rotary Roll Marking Machines
For the high speed, high production marking on the periphery of round cylindrical parts.
---