Rotary Roll Marking
Product Announcement from GT Schmidt Marking Systems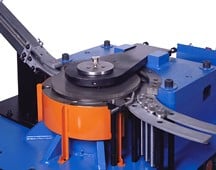 Rotary roll marking machines for high speed, high production marking of cylindrical or tapered round parts.
Schmidt's Model 20 Rotary Roll Marking Machine is our most versatile planetary marker, and is best suited for solid or thick walled cylindrical parts that can stand in vertical positions or fit into slots on a rotating carrier dial.
This high production machine features an air loaded die head mounted on a swing arm that provides pressure as parts roll through the marking area. Round parts can be hand loaded or automatically using a hopper feed rail or shuttle feed. At a minimum production rate of 3,000 parts per hour with a variable speed DC motor, Model 20 rotary roll marking systems are ideal for quickly marking a single line of information around the periphery of solid and substantial circular parts.
Schmidt's in-house engineering department has the ability to custom design all it's equipment to incorporate unique characteristics for exeptional speed. The Model 20 combined with a bowl feed can mark up to 15,000 pieces per hour.
Schmidt is the preferred source for rotary roll marking systems with more than 100 years of application experience. Virtually every machine we build is customized for a specific application, but all of our rotary systems share some common specifications: 110 volt power supply, 80 psi air source, and DC motors to permit variable speed operations.
Is Rotary Marking right for your application? Rotary marking systems are ideal for marking small, round parts that are stable enough to stand up on a flat surface. Specific applications include: sockets, welding tips, screws, drills and rods.
Marking Depth: Rotary units generate light marking pressure, so if you need deep indenting an automated roll marker might be a better choice. Schmidt has a large variety of roll marking systems to help meet this requirement.
Part Diameter: Most rotary marking machines can accept parts up to 4 inches in diameter; specially designed units required to handle larger diameters.
Part Range: Marking diameters that vary by more than 1/4" is more labor intensive because it involves the time-consuming task of changing pressure dials.
Schmidt offers all types of direct part marking equipment and systems. With its in-house engineering department, Schmidt is knowledgeable and experienced enough to handle even your most challenging marking applications.
---