Rotary Roll Marking Machine
Product Announcement from GT Schmidt Marking Systems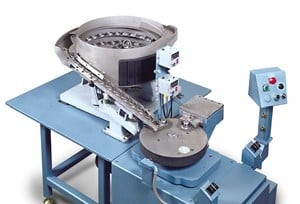 Rotary roll marking machines for high speed, high production marking of cylindrical or tapered round parts.
Geo. T. Schmidt's Model 21 Marking Systems is outstanding for marking cylindrical parts with thin walls. Similar to the Model 20, this high speed rotary marker encompasses an air loaded die head mounted on a swing arm that supplies pressure as internally supported round parts roll through the marking area.
Circular parts with thin walls are supported by solid mandrels that are mounted on a rotating carrier dial. After the marking cycle is complete, the cylindrical parts are discharged automatically by elevating stripper plates. A variable speed DC motor allows for control of the marking speed and insures a minimum production rate of 3,000 parts per hour. The Model 21 can be combined with an array of automatic parts handling systems.
For pure marking speed, nothing can compare to Geo. T. Schmidt rotary marking systems. Usually, they can mark up to 4,000 parts per hour, but specially designed systems have achieved speeds up to 15,000 parts per hour. The explanation for this extraordinary speed is simple, rotary systems are engineered for continuous marking action, not one-at-a-time cycling like conventional roll markers.
Parts are automatically fed to a constantly rotating carrier dial that transports them past a fixed concave marking die. The impression is indented largely by forcing parts through a pinch point created between the air-spring-pressured marking head and the pressure dial.
Schmidt is the preferred source for rotary marking systems with more than 100 years of application experience. Virtually every machine we build is customized for a specific application, but all of our rotary systems share some common specifications: 110 volt power supply, 80 psi air source, and DC motors to permit variable speed operations.
---