Scribe Marking Machine
Product Announcement from GT Schmidt Marking Systems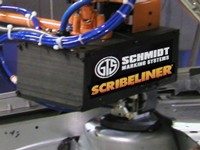 Scribe marking systems are an alternative to dot peen pin marking systems for marking applications where work decibel levels would be increased during normal impact marking, (i.e., large hollow parts, sheet steel, automotive vehicle bodies, etc). The drop and drag scribing technology virtually eliminates all sound associated with the marking process.
Scribeliner® marking heads can be mounted to an adjustable height column, fix mounted as a nameplate feed system or installed as a separate head for inline production.
Scribeliner® marking heads can be column mounted for benchtop style marking, equipped with nameplate shuttle feed systems, or directly mounted into your manufacturing cell or production operation for inline integration.
Available with 1" x 4", 3" x 4" and 6" x 6" marking fields - custom field sizes available.
Ball screw-driven x/y axis, powered by heavy-duty stepper motors, provide extra torque for scribing through the toughest materials at deeper marking depths.
Drop and drag pin technology for quieter marking
Marks on metals, plastics, ceramics and more
Scribes date codes, serial numbers, logos, or any sequence of letters and numbers on your parts
•Scribers are the best choice where a quiet, deep, recoverable mark is required and clamp tooling is to be utilized.
Multiple size scriber pins and bodies available for variable marking widths and depths
Programmable speed and pressure settings
---