Steel Marking Stamps
Product Announcement from GT Schmidt Marking Systems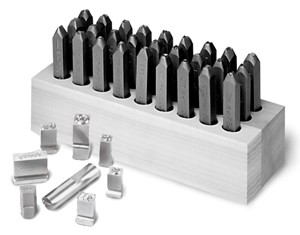 All of Schmidt's steel type, logotype, hand stamps, Hi-Loy letters and figures, are all specially heat treated and inspected to maintain uniform quality and durability.
Hi-Loy brand steel is a special development by Schmidt to provide lettering tools which will stand up under the most severe marking conditions. These premium brand tools are recommended when marking forged parts, stainless steel, or heat treated steel up to Rockwell 32c.
Type holders are available to fit all of our standard and custom type or logotype.
Descriptions of Schmidt's available steel type, logotype and hand stamps.
Straight Type
Round Type
Specialty Type - Radial & Wedge Style
Steel Hand Stamps & Steel Code and Inspection Stamps
---